---
My Zettelkasten Journey (So Far)
Hello, I'm Mike from South Carolina in the US. Here is my Zettelkasten journey so far.
1970's

My degree is in English. I wanted to be a writer.

1980's

I learned to code in IBM 360 Assembler using punch cards actually (How crazy is that?). Even taught Assemble at a local tech school. Been in software development ever since. The process of writing and coding is similar.
I became a software developer, eventually working with Oracle databases, thinking about data and information in terms of a data dictionary and structured query language (I still do). The programming language doesn't matter. I can't say I used them all, but most of the major ones.

2000's

Abandoned what I thought was a desire to be in management and took a leap and became an independent contractor. I never looked back.

2018-03
2019-02

Purchased The Archive after spending the previous year trying to get my thinking and my existing note pile of entropy mess disaster infused with as much of the best ideas I could find and mimic from the Blog and Forum here at Zettelkasten.de.

2019-06

My leap in the 2000's paid-off. I retired.
People asked me what I wanted to do in retirement. Sort of like what do you want to do when you grow up.
I had no clue.
Eventually, I realize I wanted to think and to write, which is why I choose a degree in English back in the day.

2019-10

I succeeded in taming my note pile of entropy using Bear Notes using the Zettelkasten Method.
I choose Bear Notes because I already had notes there, and I thought to have inline images important.
I joined the Forum.zettelkasten.de, excited with my efforts with Bear Notes.

2019-12

I woke up in the middle of a cold dark winter night with the terror that my note pile of entropy tamed by the ZK Method was a classic example of "Collector's Fallacy."
I decided to accept and embrace "The Bear" and continue to indulge my Collector's fallacy fetish.
I realize Bear was the right choice at the time for my collecting because of the inline image, file, sketching support, and having the same app on both macOS and IOS. It basically was my Evernote I just didn't realize it.
Often the obvious eludes me.

2020-01

I decided that The Archive would be where I write to think and think to write.
I began again abandoning four prototype previous attempts to build a thinking companion between 2019-02 and 2019-10 using the ZK Method and "The Archive."

2020-02 (Now)

Gaining traction with The Archive, building my thinking companion.
I am an audiophile and enjoy listening to vinyl.
Like both Windows and macOS, macOS makes me happier. A Unix command-line also makes me happy.
My macOS editor is BBEdit, everywhere else some flavor of vim.
My little collector friend - The Bear
My little thinking friend - The Archive
My little writing friend - Brave Ulysses
Since I don't work anymore here is my

*Retirement-Work-Fun-flow (Percolating in progress)

Bear Notes → Collector's fallacy fetish → The Archive → Zettelkasten@FutureSelf → Ulysses long-form writing.

Acknowledgments

Christian and Sacha. You, guys, are brilliant. Thank you.
Will, your contributions have been an enormous help to me. Thank you.
Everyone that participates here, I find your comments and insights fascinating. Thank you.

Final thoughts

As long as I have been behind a keyboard, I have never joined a forum until......
Forum.zettelkasten.de is my first and only experience as a forum participant.
Not sure why I waited to introduce myself since next month I will have been around here for two years.
I enjoy being a part of this community and am having a great time!
I feel like I have found my Retirement Home. 🙂
I think monospaced font markdown formatted plain text is beautiful, like well-formatted source code, like poetry, like art.
You can tell a lot about a person from their source code.
This is probably way more then you wanted to know.
I'm getting carried away, but thank you for reading to the end.
-I will stop now.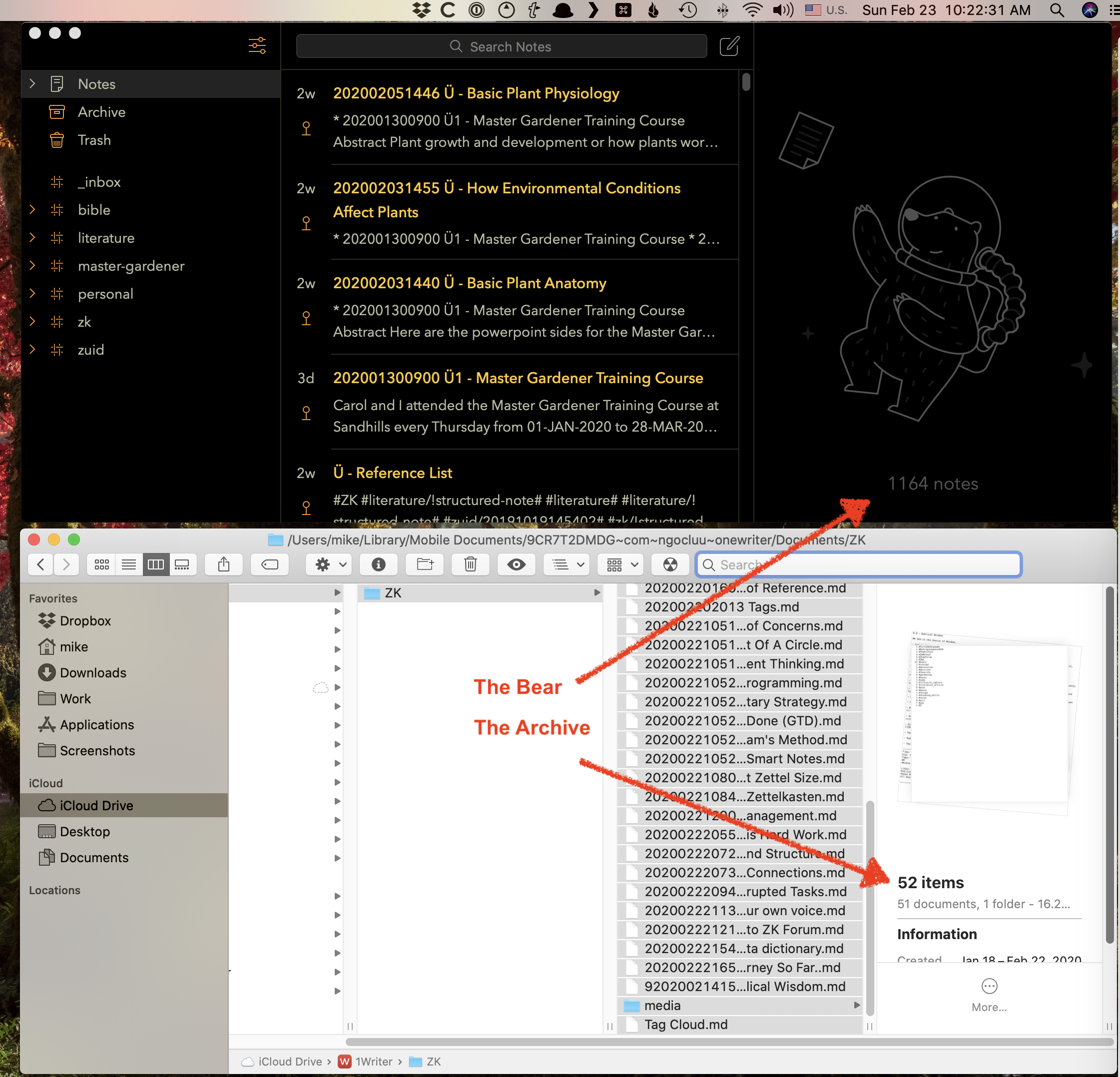 Howdy, Stranger!
It looks like you're new here. If you want to get involved, click one of these buttons!
Quick Links
Categories
In this Discussion