---
The under-stressed importance of a regular review practice.
There has been a lot of discussion of the processes of the ZKM and its similarities and differences with a second brain over on the thread Building a Second Brain and the Zettelkasten Method. A regular review practice, who's importance was not stressed, is a topic I'd like to take up here.
</satire>
Let me be a contrarian here. Who needs to review anything? I dump stuff in and use the search tools when I want to extricate my brilliance. Simple, anything else wastes time; time, I could be dumping more stuff in.
<satire/>
Notes are proxies for ideas. The more time spent reading, writing, revising, and thinking about an idea, the more the idea grows, infiltrates the mind, and integrates with other ideas revealing its true nature.
And how do we get our ideas to reveal their true nature? Through a regular review process. Hopefully, we will act Bayesian and update our notes/ideas when new information is available.
Let's break down what is meant by "regular review practice." A review practice can be a simple rereading or farther up the spectrum of involvement, following the links and potentially refactoring the idea. What I mean by regular is that this practice is integrated with life as a habit. A habit that fits your life. Maybe 30 minutes once a month or, on the other end of the spectrum, daily as part of a morning journaling practice. Where you land on this spectrum will probably move from time to time, but it is important that you are on the spectrum. At least try.
I'd like to share a little piece of Python code that I plug into my daily journaling template.
ZK Review · git/woodenzen/zkdb
These are links that open my ZkK with the appropriate date search query. With this method, I can review every note in my ZK annually. This will not scale as my ZK grows, it is starting to take almost an hour for most sessions, and I have over 3000 notes. It only averages out to reviewing 10 notes a session. Take the number of notes in your ZK and divide by 365, and you'll have a number of notes to review each day, or choose another time frame. Notes vary in the amount of attention they get. Some get only a few seconds, while others trigger an avalanche of exciting new ideas. I find this review process to trigger the creation of some of my most loved new notes.
I'm not suggesting fanaticism with regards to regular review practice, but set a goal, and within the mechanics of life, be flexible, keeping the goal in sight.
I use Bear for my journaling and web clipping.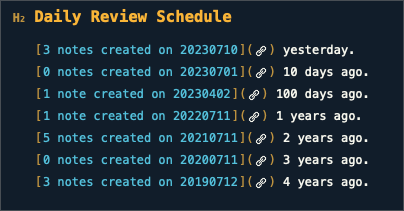 Will Simpson
I must keep doing my best even though I'm a failure. My peak cognition is behind me. One day soon I will read my last book, write my last note, eat my last meal, and kiss my sweetie for the last time.
kestrelcreek.com
Howdy, Stranger!
It looks like you're new here. If you want to get involved, click one of these buttons!
Quick Links
Categories
In this Discussion