---
Video example of essay factoring into my zettelkasten - The Archive
Here is a demo of the initial on-boarding of a paper/essay in my zettelkasten.
I thought this might be helpful. @davecan's skillfully written tour of the process maps onto this video pretty well, I think. He is much more technical and explicit about the mechanics. My approach is relaxed. I love @davecan's approach to titling, the references to Andy Matuschak, and really identify with the honor or lack of honor among thieves ethos.
This is a response to @Senketsu question Should notes in Literature Notes be copy and pasted when making Permanent Notes? and @davecan's detailed and excellent reply.
I'll try using @davecan's terminology to say a little more. This literature note is on its way to being evergreen. It lies on the spectrum much closer to evergreen than literature. It may get retitled, it may be a bit dodgy. I may get refactored more atomically.
This demo only goes so far.
1. There is no atomizing of the note. That may or may not come later.
2. The note is already rescheduled for review.
3. More integration is in the future.
4. Any mistakes and misrepresentations are mine alone.
References
3. paulgraham.com/procrastination.html
4. Highlighted PDF (attached)
5. Find note (attached)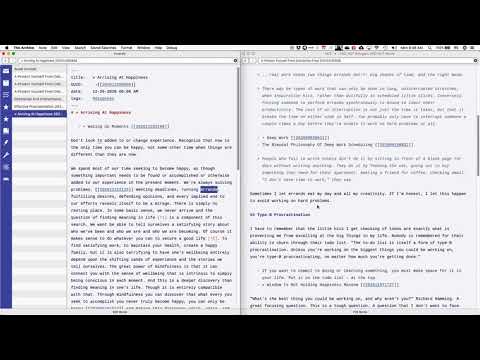 Will Simpson
"Read Poetry, Listen to Good Music, and Get Exercise"
kestrelcreek.com
Howdy, Stranger!
It looks like you're new here. If you want to get involved, click one of these buttons!
Quick Links
Categories
In this Discussion