---
UPDATE: My attempt to solve the Folgezettel debate
Should you use Folgezettel or not?
Short answer: It doesn't matter. Here's my attempt to put the authors into terms--directly from my Zettelkasten.
One article in the blog refers to the Folgezettel as a redundant feature, which was also defined as:
A Folgezettel is a child to his parent note.
But let me get this straight. The definition was too simplified--too simple that the real purpose got stripped off. If we get the wrong assumption in the first place, then we'll arrive at the wrong conclusion. So let's go back to the start: What's the point of the Folgezettel?
The point of Folgezettel isn't to connect "sub-topics" to its "parent note"—it is to make linking and retrieval easier. With that, I strongly agree that using the Folgezettel as "children" to parent notes completely defeats the purpose of the Zettelkasten. After all, if you're using the Zettelkasten as a second brain, then by definition, it should work like a brain. Brains don't learn by hierarchies alone—but rather, with neural connections that get continued over time as you develop your understanding. In other words, both can coexist.
In that sense, if someone were to use Folgezettel effectively, he should treat each note as a "thought" continued on branches. In other words, treat 11a, 11a1, 11a1a, and 11a1a1 as being on the same level (i.e. as a continuous train of thought) rather than as having a hierarchical relationship. I get that it's easy to think that the Folgezettel is hierarchical—that note "11a" is a parent to "11a1". But here's the deal: Sometimes that happens, but it's more of an exception than the rule. Daniel Ludecke, the creator of ZKN3, clarifies this (emphasis mine):
This impression may come from the fact that technically implementing such a feature with a so-called tree component requires a root element – with all following elements being "children", thus it seems that the first element – the root – defines a specific category. But, all notes in a note sequence are on the same level. There are no categories.
In short, Folgezettel might create hierarchies, but they're not the main thing. Every sequence is on the same level.
Okay, we solved that, but we're not yet close to the big question: "Is it really needed?"
The Value of Folgezettel: Do Direct Links Make It Obsolete?
Yes, another issue of Folgezettel is whether or not it still has value in the advent of wiki-links and easy-to-access digital notes. The argument, written by zettelkasten.de co-founder Sascha, is that:
The possibility to create a direct reference, for example as a link, reduces the importance of the Zettel coming next in the sequence. The technique Folgezettel creates value from the position of a Zettel in the archive. But the technique of creating a link reduces the value of the position of a Zettel.
I get the logic behind it—"we have direct links anyway, why bother using Folgezettel to link notes?". (Please correct me if I'm wrong) Yes, direct links might have reduced the value of linking notes using a Folgezettel, but that is only true if the only purpose of the Folgezettel is to link notes—which is totally not the case.
The case is that:
Direct links allow connection.Folgezettel allows easy continuation. The primary purpose of Folgezettel is to allow following— and thus, continuing—thought trains at a glance, NOT just to link to other notes. The "linking" that happens through the position of the notes are merely a means to an end: to make connections between ideas visible.
Therefore, direct links don't make Folgezettel redundant—they rather complement the Folgezettel. Direct links allow you to connect multiple note sequences, and I believe that's what gives the element of surprise.
That's not to say continuation of thoughts is impossible with direct links. In fact, Sascha has already produced 3 books using direct linking only. Christian Tietze makes progress on 50+ projects at the same time without ever using the Folgezettel. But on the other hand, Luhmann made 90,000 notes work using the Folgezettel technique—that speaks volumes about its value that we can't easily discredit. I agree with Sascha that the Folgezettel "came as a consequence of him [referring to Luhmann] having to deal with a physical Zettelkasten." With 90,000 notecards, it sure is tedious to look at each note just to find connections; Folgezettel solves that problem for him.
But there are three takeaways you can get from that:
"Sascha, Christian and many others have done Zettelkasten without Folgezettel, so why use it?"
or... "If Luhmann was able to work with 90,000 notes using Folgezettel, then imagine how much better we can do it with digital tools."
I'm leaning toward the latter. But regardless of my stance, if both parties were able to produce great output using the Zettelkasten, then we can conclude that "using Folgezettel or not" is not the point. Following the principles of ZK organization IS the point.
It does NOT matter if you use structure notes nor Folgezettel if you're using the wrong principles. (That said, Sascha's and Christian's method prove to be more foolproof than Folgezettel technique.)
And since we're talking about principles, Luhmann's principles of organizing the Zettelkasten are as follows:
No categories
Linking of related notes
Tagging and register. When linking, you want to have "entry points" of existing topics you want to work on. Otherwise, you're going to look at the index over and over again. This is either your Index in the Folgezettel, or your Structure Notes for UID systems.
Arbitrary "branching" of note sequences. Direct links do this without a problem. But later, you'll see that Folgezettel runs into branching problems sometimes.
As long as you follow these principles, using direct links exclusively or using the Folgezettel (with direct links, of course) does NOT matter.
A minor bug of the Folgezettel
That said, I've mentioned that UID systems are more foolproof than Folgezettel because it's "closer" to the main principles, so to speak. At this note Sascha referenced, apparently Luhmann had to put a note in more than one place:
"Anpassungsfähigkeit", as you see there, was not only to be found in one place. You could find it in 21/3a7 and 54/14z/1.
But I find this trivial. The solution is simply to duplicate that note from 21/3a7 and just turn that into 54/14z/1. If you're afraid of losing potential connections on the other side, then just link them together. What's the big deal in duplicating it? If anything, this allows you to continue the thought trail from 54/14z/1. Daniel says:
A manual link or reference between two notes is, technically and regarding the context, something different than continuing an idea via Folgezettel (note sequences).
As I've said, direct links form connections. But Folgezettel is a technique you can use that allows you to easily continue your existing thought trains. Daniel continues:
Technically, links and Folgezettel may be similar, and you can emulate the principle* of Folgezettel using links. But the meaning between Folgezettel and "pure" links is very different.
*I disagree that it's a principle. It's a _technique_ to realize the principle of branching.
Direct links can do both branching of ideas and, obviously, linking at the same time. Folgezettel has a limited (1 use) capacity to link and a relatively finite capability for branching, but then it makes the branches visible at a glance.
Just compare this: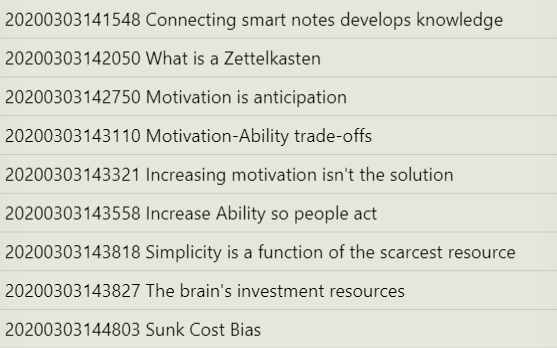 To this: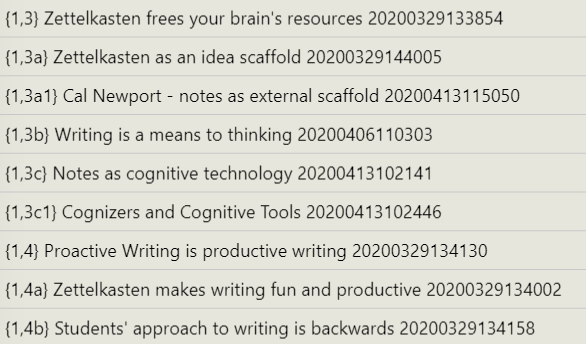 That said, I'm well aware of structure notes—they allow you to continue the trains of thought you see promising, as well as work on multiple projects at the same time, too. That's why they become more and more important as your collection gets bigger.
Summary
If Folgezettel is used exclusively for linking, then it has no value because there are direct links, anyway. As we've talked about, the primary purpose of Folgezettel is to allow following— and thus, continuing—thought trains at a glance, NOT just to link to other notes in a sequence. Therefore, there is still value in using Folgezettel: to make existing trains of thought more visible. This is especially helpful if, for some sadistic reason, you're using a Physical Zettelkasten.
Direct links allow connections, and Folgezettel allows for easier continuations. But that doesn't mean direct links don't allow for continuations--structure notes help you do that.
Many people here have used UID systems with success--producing high-quality content in the process. Luhmann also used Folgezettel with success. If different techniques produced equally great results, then "using Folgezettel or not" is not the point. Following the princples of ZK organization IS the point.
The main problem with Folgezettel technique is when you want to continue two disparate trains of thought that contains the same note in the sequence. It's a trivial matter; I proposed a solution to just duplicate the note and link them together "just in case."
Folgezettel is a technique to realize the _principle _of branching. Again, these branches become more visible from the index, so it's still valuable as a technique. However, as long as you follow the principles of branching, linking, and indexing your notes, it does NOT matter what technique you use.
Conclusion
So, should you use Folgezettel, Direct Links, or both? I use both, but to be honest: it doesn't matter as long as you realize the main principles of ZK organization:
Bottom-up rather than top-down
Connection of notes
Having entry points
Continuing existing thought trains
I know many prolific knowledge workers like Tiago Forte, Nat Eliason, Shu Omi, Khe Hy, and David Perell who neither use UID's nor Folgezettel but are still producing high-quality content and original insights at a high rate. Most of them use Roam Research; I think it's quite handy for automatic backlinking, but far from ideal for a Zettelkasten you'll use for 30, 40, or 50 years. I'm leaning towards basic tools that rely more on understanding of underlying principles. But that's a story for another day.
Sources:
1: https://zettelkasten.de/posts/luhmann-folgezettel-truth
2: https://strengejacke.wordpress.com/2015/11/01/you-underestimate-the-power-of-the-dark-folgezettel/
3: https://www.lesswrong.com/posts/NfdHG6oHBJ8Qxc26s/the-zettelkasten-method-1
Howdy, Stranger!
It looks like you're new here. If you want to get involved, click one of these buttons!
Quick Links
Categories