---
Let's talk about Ideas and Concepts
I am utterly enthralled with some sort of quixotic quest to find, categorize, and ruminate on awesome ideas and concepts. Thanks to @mleo2003 for sharing your post about The Syntopicon, which is such a preposterous and ambitious idea that I, at the very least, feel a to-my-bones appreciation for efforts of Mortimer J. Adler and friends.
Here's their 102 Great Ideas organized by category: https://www.thegreatideas.org/103ideascat.html. If there is interest, I would like to create a separate thread where we discuss the validity of The 102 Great Ideas: how they overlap, what is redundant, and what is missing—especially since they explicitly did not cover ideas outside of the Western tradition.
Sometimes in the shower, I have daydreams about creating The Concepticon—a cross-linked and fairly comprehensive list of important concepts...although, alas, I am but an amateur and certainly no Adler! As of now, these concepts are defined roughly just as any concept that when I think about it, I feel a certain sense of awe, or groundedness, or universal fundamental-ness, or wisdom.
Here's a screenshot showcasing some of these concepts: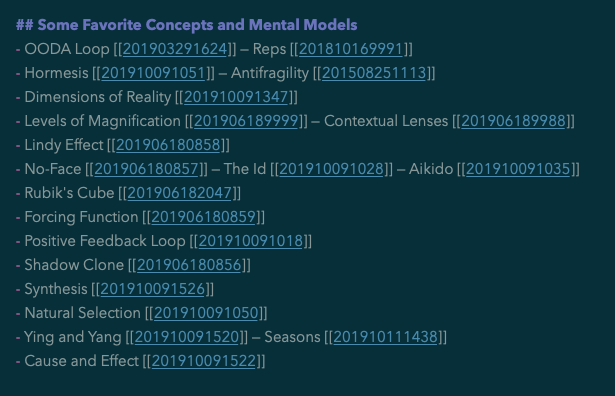 There are so many fascinating concepts. I will definitely be adding: Flow and Sfumato among others.
Is anyone else just super stoked thinking about ideas and concepts, or should I keep my thoughts to my shower?
What are some of your favorite concepts?
Post edited by nickmilo22 on
Howdy, Stranger!
It looks like you're new here. If you want to get involved, click one of these buttons!
Quick Links
Categories
In this Discussion