---
PhD Student thinking about organizing her literature review via zettels...thoughts?
Hi All,
I am in the first week of my year of conducting literature reviews on creativity, spirituality, personal agency, and organizational transformation! Woot!!! Very exciting!
My professor has shared many cool worksheets and spreadsheets for organizing literature notes for use in my lit reviews. (Thank you, amazing professor!!) However, as I was going through the examples, I found myself thinking, "hey, couldn't I just do this via zettels?"
Here's my thinking: Each worksheet or spreadsheet uses a one-line per article approach. For each article, the worksheet provides space to capture the following:
Authors (year)
Relevant Literature & Theory (Major Points, Topics, Ideas, and Who was referenced?)
Purpose of the study
Overview of Study Design (Method, Variables/Key Concepts, Sample - who was studied and how were they selected, Means of Data Collection?)
Major Finding(s)
Conclusions, Implications, & Limitations
Now, here's how I currently structure my zettels: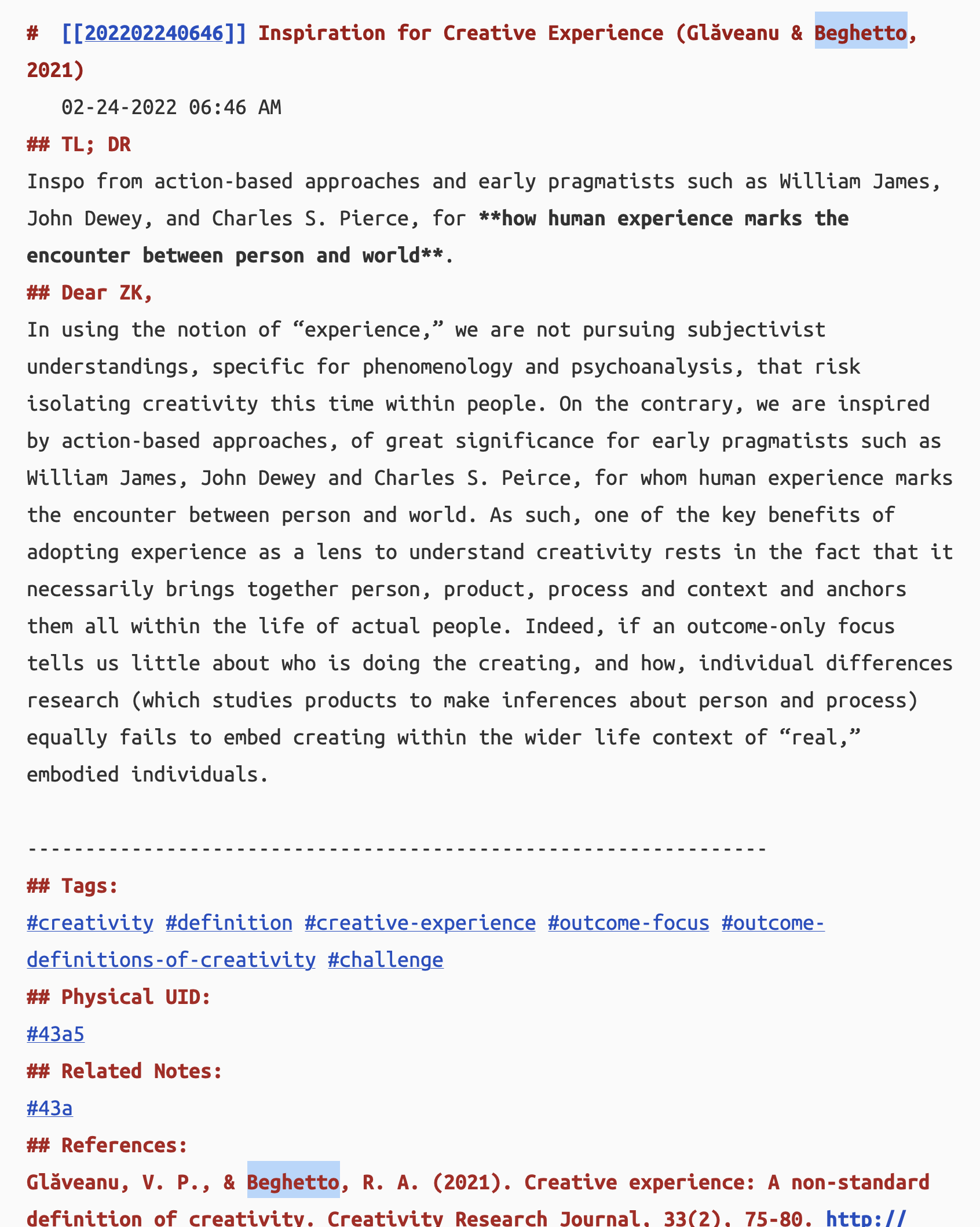 I include the citation in the title
I include a "too long, don't read" summary at the top
I write a more expansive entry
I include my own tags for cross-referencing
I include related card links
I include the actual reference
In theory, it should be pretty easy to establish a new template where the top part becomes spots for those worksheet areas. The bottom part would largely remain the same, only the tags would allow me to include things like
Which lit review this is for (creativity & spirituality, agency & organizational transformation, or if it speaks to both)
Findings tags and research method tags (e.g., #creativity-spirituality; #quantitative #survey)
My own brilliant insights and connections
Et cetera.
My questions for this community are:
1. Have you ever done something for your own literature reviews? How did it work? What tips or advice would you have for me?
2. If you have been the committee member overseeing a student's literature review, how would you feel about the student using a zettelkasten for organizing their research notes and thoughts? Would it cause you problems? Would you prefer that zettels be translated into worksheets when the student and committee member are working together? What tips or advice would you have for me?
Thanks in advance for your help with this one!
Jeannel
Howdy, Stranger!
It looks like you're new here. If you want to get involved, click one of these buttons!
Quick Links
Categories