---
Note Typology
Lately I've found Bloom's Taxonomy interesting — Bloom apparently did it to save time in making annual examinations (according to my source, at least) and consequently, it led to a "common language" for education.
When asked what's "the most important thing they want students to gain after each class," teachers will always say that they want students to "really understand" the lecture. But as Krathwohl (2002) put it, this is an ambiguous term; they haven't articulated what it means when a student "really understands."
And without a common definition of how well students understand the material, making exams that test understanding would produce large variability.
How do you even know when students "really understand" something?
So what Bloom's Taxonomy did was give a comprehensive set of criteria at which teachers could determine whether a student could "really understand." In the latest revision, discrete levels of 'cognitive processes' were used: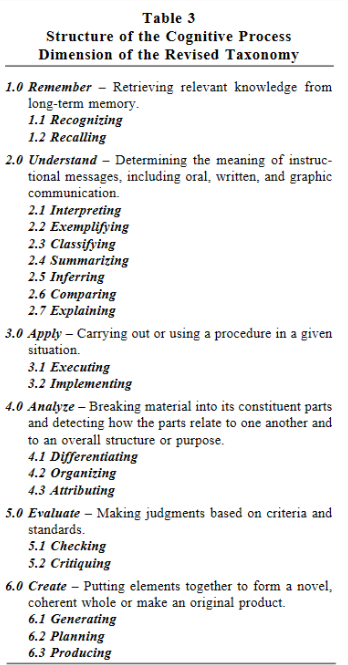 The higher up the students are in the cognitive process dimension, e.g. if the student can "apply," not just "remember," the 'deeper' the learning is. (I've found this taxonomy useful in my personal learning as well.)
Of course, it can be argued that the cognitive processes may very well be a continuum rather than a bunch of defined levels, but the point is that Bloom's Taxonomy has led to a common language in education that clarified what it means when students "really understood" what they were trying to drill into their heads.
In the Zettelkasten Method, I realized that there may be much overlap between the concepts to create a taxonomy that creates this 'common language,' as in Bloom's Taxonomy.
But, I feel like a note typology, at least, may be especially useful to beginners. (Note: Not trying to say I'm intermediate/advanced or something)
Why beginners? My motivation here is that when I started using the Zettelkasten method, I did feel the need to have clearly defined "types of notes" — a sort of recipes to follow — so that I can adopt the principles without getting overwhelmed. I'd slowly discover my own "note typology" after a year, but that's only after I was able to connect the principles, my observation of how others were doing it (by lurking in the forum, stalking @Will's post like a creepy madman, and binge watching Christian process "Range by David Epstein" at least 3 times), and my own experience in making chaotic notes.
My hunch is that having this typology would reduce a beginner's learning curve, and help them figure out how to integrate principles into their work much better.
Now, for the current notes I have, this is my "typology":
Notes/Zettels/Atomic Notes - they contain just one idea, elaborated in your own words. (I've started hating the term 'Evergreen notes') They could be definitions, a claim, or a how-to. This is not exhaustive, just what I remember from my notes at the top of my head.
Concept structure note - these are structure notes that link to a set of notes that form an argument. For a familiar example, a concept structure note named "Wheat may be poisonous to bears" would contain the atomic notes "Wheat contains 10% gluten" and "Gluten is poisonous to bears"
Outline structure notes - these are writing outlines that contain main points or questions for an ongoing writing project, such as my Master's Thesis or an online course I'm making. These main points allow me to do a more laser-targeted search when reading. I know what to extract before I read.
Source structure notes - these are structure notes that mostly use the source material's structure to organize the notes. I usually take notes in here while reading, (See @ctietze's video on Range — he does this, too) but I've decided to just take notes on my Kindle so I can stop straining my wrist
Buffer notes - "special" note that doesn't really have structure, but rather contains my raw thinking that I'm not sure whether to integrate or not in my archive. Hence, a "buffer"
Home/Startup note - it's where I link to the structure notes I'm actively working with so I don't have to think about where I need to go or more importantly, how I need to continue (the extra thinking adds resistance for me)
As much as possible, I avoid using fancy terms to avoid confusion, and just call the note what describes it, in plain language.
So I have a question for the more experienced:
Do you have your note typology? Do you think we should agree on a common language for the type of notes we make? More importantly, do you also think that having a typology is even helpful?
Personally, I feel like it would put everyone on the same page, especially when posting on the forums. But at the same time, I also realize that "getting stuck on terminology" is also a trap — but that most likely happens when definitions are too ambiguous.
Ref
Krathwohl, D. R. (2002). A Revision of Bloom's Taxonomy: An Overview. Theory Into Practice, 41(4), 212–218. https://doi.org/10.1207/s15430421tip4104_2
Howdy, Stranger!
It looks like you're new here. If you want to get involved, click one of these buttons!
Quick Links
Categories
In this Discussion