---
TiddlyWiki for Zettelkasten. Questions, answers and experiences
In another thread @GeoEng51 asked about my experience with using TiddlyWiki for a Zettelkasten. I'll try my best to fill in my answers here and muse a bit on my experience. Feel free to ask about my strange choices.
For those who don't know it: the oddly-named TiddlyWiki is a lightweight, single-file*, browser-based-but-also-local wiki software. (* single-file is optional -- more on that.) It is a wiki software, which implies many of the usual features: pages, formatting, links, tags. Media support is also quite decent. It is open-source software.
Since it is browser-based and single file, you can go to their website: https://tiddlywiki.com/ and play with it. The website is a TiddlyWiki instance, so you can immediately play with it and try things. The plus (+) icon the right hand menu adds a new page (called a tiddler.) It is quite an established project: good documentation, active development etc. etc. I've known about since at least 2010 and used it on-and-off since 2012 and in 2018 I began what is now my Zettelkasten. Enough story

Can it accommodate structure notes, tags, index, etc.? Tags are supported, but more structured than the usual ZK approach. There is a specific tag-field. You can create links and lists.
Does a wiki have greater ability to include and show media, such as images, videos and sound recordings? Images are easy to add. I frequently have images of plots in my notes. Video and sound probably require a plug-in to work -- haven't tried.
Have you tried recovering plain text files from Tiddly's? Yes, in fact, TiddlyWiki doesn't have to be a single file. I won't get into the details, but TiddlyWiki can be run as a server and store individual pages as individual files (See more). This is what I do. I like having the files directly accessible.
What do you think the longevity is of this massive HTML file containing your ZK? With multiple independent implementations, widely available standards and massive industry dependence I don't see HTML, CSS and JS going anywhere in the next decade

But to give a more just answer: I split it into multiple files to make it more manageable; second, TiddlyWiki uses a markup similar to markdown for the note content (markdown is also possible with a plugin.)
Are there problems when the ZK gets really large? I have tested adding somewhere around 10000 notes to a TiddlyWiki. It wasn't an issue -- everything was still fast. However, I don't think it is really tuned to that kind of load and I had to avoid the "recently added" tab because of... well... 10000 recently added notes. It is open-source software, so I have considered just fixing it if it becomes a problem.
Is there anything unusual about saving or backing up your TiddlyWiki? I just copy the folder it is contained in. I frequently switch between two PCs and I haven't had issues. Having each note as a separate file helps.
Does it have other tools that work better for creating structure or for connecting zettels and navigating "thought trains"? I know that there are many plug-ins for drastically changing how note browsing works, but I don't touch that. However, by default it has, in my opinion, the nicest wiki / ZK interface out there (bold statement). TiddlyWiki doesn't present each note/page on its own. Instead, every time a note is opened it goes on a list called the "story view":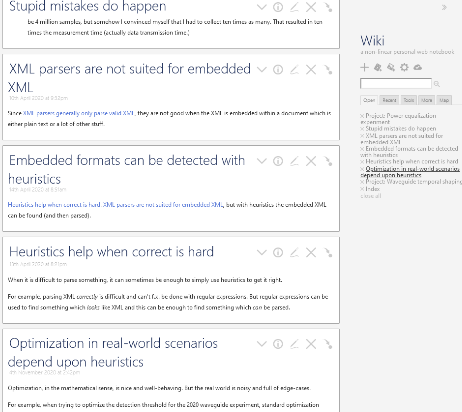 Here I have a bunch of notes opened. As I open more and more, the story view turns into a kind of trail of notes, where I can scroll up and down to move through the trail. For the usually small notes of ZK this is amazing, since multiple notes can be in view at once. It would be hard for me to give this feature up.
There are plug-ins which expand on the story view. I also have a plug-in for showing a graph of connected notes. I use this to explore second-order connections.
What are its strengths and weaknesses in regard to ZK? I think the story view is very well-suited for ZK. It is open-source and the files are just text. It is highly customizable and adaptable, even without touching the source code. Personally, I knew it already so it was easy to adapt to ZK. Several ZK-ready packages exists, tho I haven't tried them. Weaknesses: I think the numerical ID approach clashes a bit with TiddlyWiki's design choices of a very prominent title. I know that some have tried to work around this, but I haven't looked into it -- I just use titles

Not strictly related to ZK, but keyboard interaction seems like an afterthought -- it could be a lot better.
Is there anything that really challenges the ZK concept or process? I don't really think so -- unless I've completely misunderstood the point of ZK. The ID/title thing might be a deal-breaker to some, which is understandable.
Howdy, Stranger!
It looks like you're new here. If you want to get involved, click one of these buttons!
Quick Links
Categories
In this Discussion