---
[SOLVED] [BUG] Sync conflicts with 2 Macs editing the same file
@ctietze - Not sure the right venue and format for this report.
I'm on 1.5.5 on both computers and this is not new but more prevalent now. It happens only if I have a note active in the editor window on two machines. Something I apparently do often.
Is this a bug or a feature?
Report
I am at my office computer working on a file 202007202002 Ecodharma - Ends And Means and it becomes time to take the puppy for a walk. Instead of returning to my office on returning I stop at the shop and continue editing 202007202002 Ecodharma - Ends And Means on my shop computer. So now 202007202002 Ecodharma - Ends And Means is open on two computers on my local network. It seems each is autosaving and Dropbox is reporting conflicts.
I end up, after only 10 minutes, within the note list and Finder: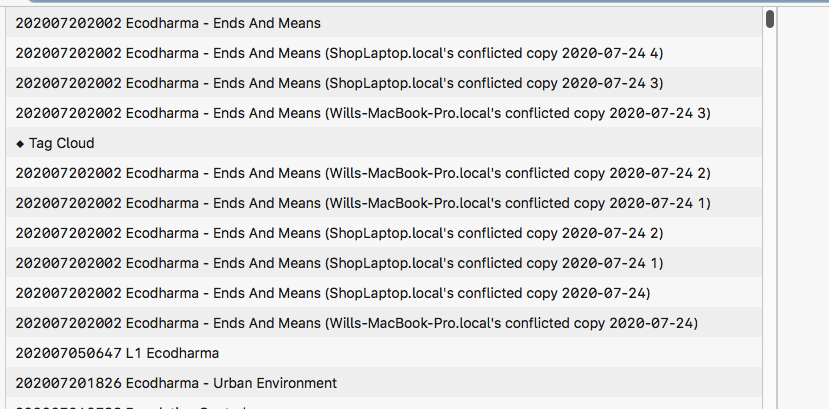 Post edited by ctietze on
Will Simpson
"Read Poetry, Listen to Good Music, and Get Exercise"
kestrelcreek.com
Howdy, Stranger!
It looks like you're new here. If you want to get involved, click one of these buttons!
Quick Links
Categories