---
Structure Note - Creative Nonfiction "Fire Season" Philip Connors
This is a sample of how I've interpreted the notion of a Structure Note. Not strictly a Table of Contents, more of an annotated TOC. In this case, some notable quotes and links to core ideas, a note for if I'm ever in New York to check out the Berg Collection of English and American Literature. I added context around each link to help place it for my future self. I'm a writer so the focus is on Philip's writing techniques and how they might help my writing.
The ::inbox is used in a saved search for work in progress. I have 30 more pages to read in this book and may further refactor some of these bullet points.
Over there @ctietze said a "structure note that links to, orders, and comments on all these for an overview, and to prepare a potential article/book outline." I agree and strive to shape this structure note as if I had to write a 500-word book review (even though I probably won't). I think it is important to add comments to the links here to hint at what lies beyond. It is a helpful mental exercise to think and imagine a pithy comment that points the way without giving away the "punchline".
The lower portion of this note is a meta-block which is more developed with a book publication than it would be with a zettel note.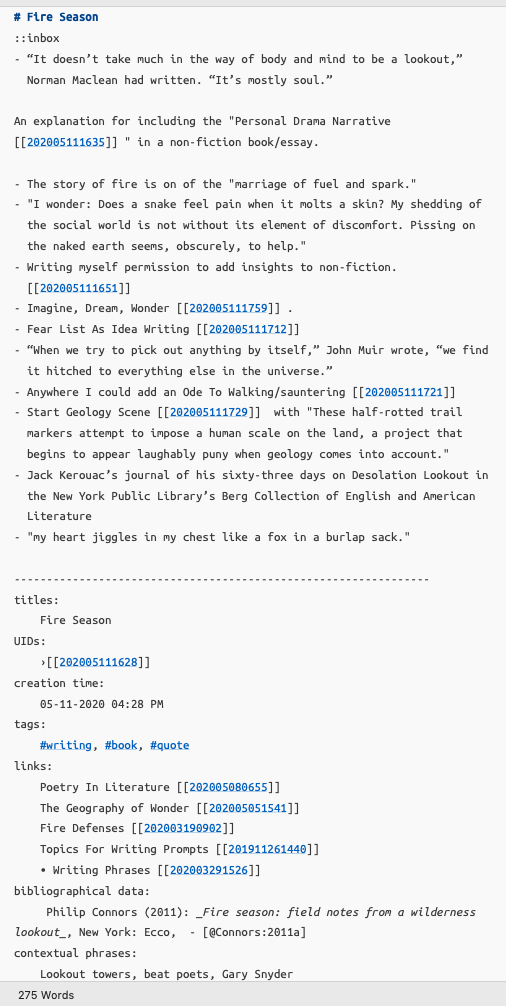 Will Simpson
I must keep doing my best even though I'm a failure. My peak cognition is behind me. One day soon I will read my last book, write my last note, eat my last meal, and kiss my sweetie for the last time.
kestrelcreek.com
Howdy, Stranger!
It looks like you're new here. If you want to get involved, click one of these buttons!
Quick Links
Categories
In this Discussion