---
Folgezettel emerging from questions
In his blog post "Understanding Hierarchy by Translating Folgezettel and Structure Zettel", Sascha asked the following
"Question for the community
1. If you use the Folgezettel technique, what are your actual goals?
2. How do you measure your progress towards those goals?"
In my use of elements from zettelkasten practice, folgezettels mainly emerge from a parent through questions or goals or seminal ideas that look promising.
The following screenshot (from the mind mapping software I use) may help to show the basic idea.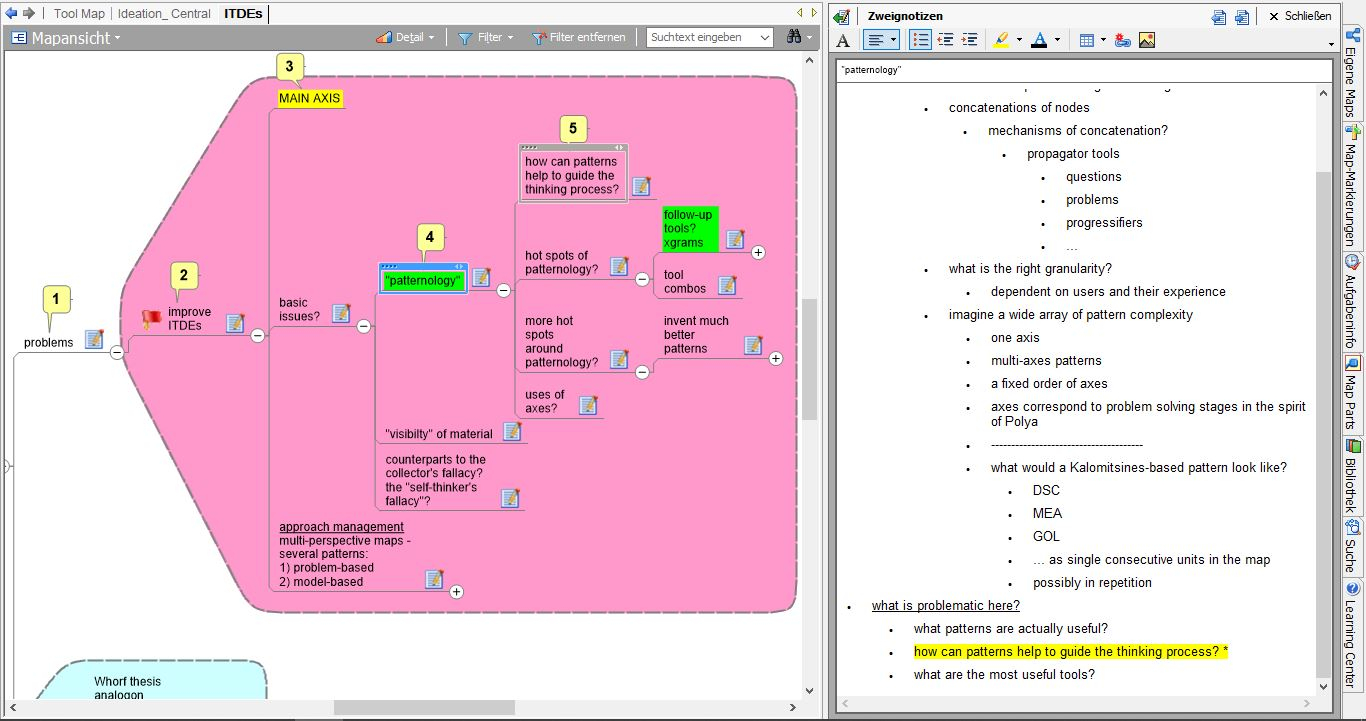 With reference to the numbers in yellow:
In node 1, I collected basic problems I found in my topic (again, it's "Integrated Thought Development Environments").
In node 2 I have chosen a problem aspect that seemed particularly interesting to me.

Node 3 is just a headline "Main Axis" - this axis is formed by its sibling nodes.
What I find fairly compelling about this axis concept is that it is easy to come back to it and see what else should be done about the problem given in node 2.

Node 4 has emerged from its parent, where I hit upon the concept of "patternology", a "theory of patterns" and how they could be used to give structure to a thinking process.
The textnotes to this node 4 are shown in the right hand side of the screenshot. At the end of these textnotes, I collect questions about the ideas found so far.

The question "how can patterns help to guide the thinking process?" leads to the next node 5.

The child nodes to node 4 form another "axis" where I can add nodes until I'm satisfied with
Obviously, the ideas generated by this progress need consolidation and reorganizing - the node hierarchy shown above is not a good starting point to resume your thinking months or years later. - It seems a good idea to write a crisp summary.
I do not suggest that an entire zettelkasten could work on the principles illustrated above. But I find it helpful for thinking about problems.
(Remark: I did not directly comment on Sascha's blog post because I was not sure how to embed the screenshot.)
Howdy, Stranger!
It looks like you're new here. If you want to get involved, click one of these buttons!
Quick Links
Categories
In this Discussion