---
Principle of Atomicity - File-based Zettelkasten vs. Roam Research
I've been using a zettelkasten based on @rene Sublime Zettel for more than 2 years. It has over 2000 notes in it covering diverse topics from neuroscience to cooking to clinical medicine. It's worked well, and as it enlarges, I get more value from it. But when new and interesting tools come along, I like to check them out. I know Roam Research has gotten a lot of attention around here and around similar corners of the web. So I started playing with it a few weeks ago.
I think one of the most striking and important differences between Roam and Markdown-based systems is that in Roam, the atomicity is even more granular. The fundamental unit is the bullet or line of text. Every bullet has a unique ID that allows it to be linked to anything else.
In Markdown-based ZKs, like mine, or those that use the Archive, the zettel is a markdown file, which usually has several lines of text in it (and sometimes a lot of text). This is helpful in that it consolidates related sentences but it doesn't allow the level of granularity that Roam does. Sometimes I really do only want to link to a single sentence and not an entire note. Roam allows that. A markdown-ZK could allow this if one made zettel-files line by line (one line per zettel), but this becomes really tedious, mostly because you have to explicitly title each zettel file.
In contrast, in Roam, you can just open up a Daily Note and start writing. There is no cognitive overhead in having to title a zettel. You can basically do a brain dump and if you didn't feel like it, you could leave that brain dump right there and never move it or properly place those lines into their own pages (groups of related bullets).
But, then, as @sfast talks about in his latest post, you can build infinite hierarchical "Structure Notes" or whatever you want to call them elsewhere.
So all this to say, I think one of the most enabling features of Roam is the size of the atom can flexibly go from a single line up to whole blocks of hierarchical bullets, without the cognitive overhead of having to create distinctly titled pages.
The other things like the back-linking and all that are cool too, but I think the fact that bullets are the unit of operation is perhaps the most powerful difference. I don't want to jump onto the Roam Wagon, since it's proprietary and I like my system, but I'm wondering if I'm losing something by sticking to the file-based ZK.
---
Here is a real example.
I was reading some medical articles on an autoantibody found in a type of neurological disease. I typed that single line into my Daily Note (which is basically an inbox)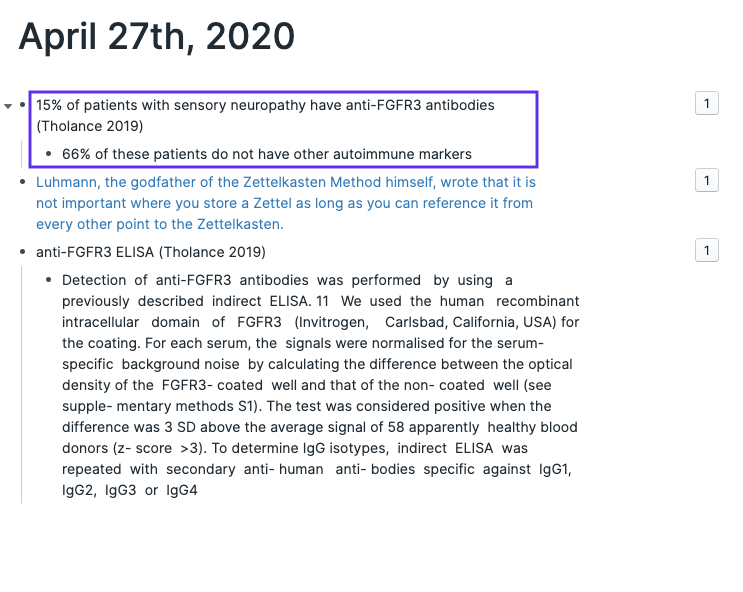 You'll also see that I was reading @sfast 's post, and I dropped that in there too, very easily, without any concern that those two pieces of information should be separated.
Then, later, I went to my 'Structure Note' on FGFR3 Antibodies and referenced that single line from my Daily Note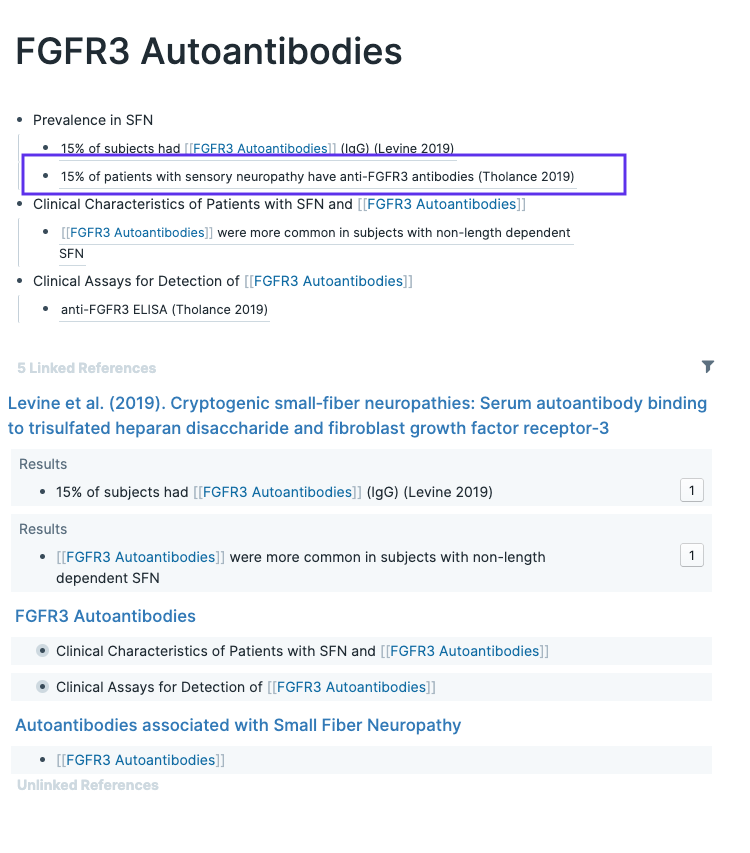 That's the beauty of Zettelkasten in general, the modularity of knowledge which allows you to combine and recombine infinitely. But in this case, the level of granularity I needed was better served by Roam than my file-based ZK.
But in this case, it was very easy for me to reference that single line.
If I were to do this in my Sublime Text (file-based) system, how would I have done this?
Should I have made a zettel for that single fact "15% of patients...." ?
Or make a larger note that collected multiple facts from the original article, and then referenced that whole note?

If I did this, it'd work out, but I'd also be linking to some extra information that I don't need there.
Moreover, what's nice about the the way Roam does it is that you see the actual content, not your title. So it fits right into the outline, rather than being something like "2020042601 - Findings from Tholance et al. 2019"
Howdy, Stranger!
It looks like you're new here. If you want to get involved, click one of these buttons!
Quick Links
Categories