---
Zettel grappling
I'm working on my "adulting." I'm reviewing and setting habits to help guide me in times of lower clarity. Looking at ideas for creating a tool for thinking, I came up with a tool that prompts me to refine the edits to zettel titles and 'summary relevance.'
This 'tool for thinking' results from a python program tied to Keyboard Maestro that prompts me to review titles and summaries of the last ten days of newly created zettel. As an anchor, it is tied to my practice of morning journaling. It reminds me and makes it convenient to examine each zettel title and the one-sentence 'relevance' statement to see if it makes sense and stands up to scrutiny. This is added to the bottom of that template. (pictured below) Automatic, easy peasy, the cognitive load of the initiating behavior habit off-loaded to the computer. This is not an excuse for not editing the body of each zettel. A new zettel will be on the list for ten days. That means ten opportunities for giving the zettel some love.
I'm unsettled on the format. In its current form it is a bit hard to read. I will make changes for readability.
If you're interested in how this is done, have questions about my use-case, or just want to chat let me know.
---
Below are pictured titles and a one-sentence summary/meaning of the zettel I'm working on. These are the ideas I'm currently wrestling with. They represent a ten-day window of new zettel.
This is generated with nothing held back. I would love to talk to you about anything on this list. If any of this is of interest to you, please start a thread here, DM me, or get in touch via email.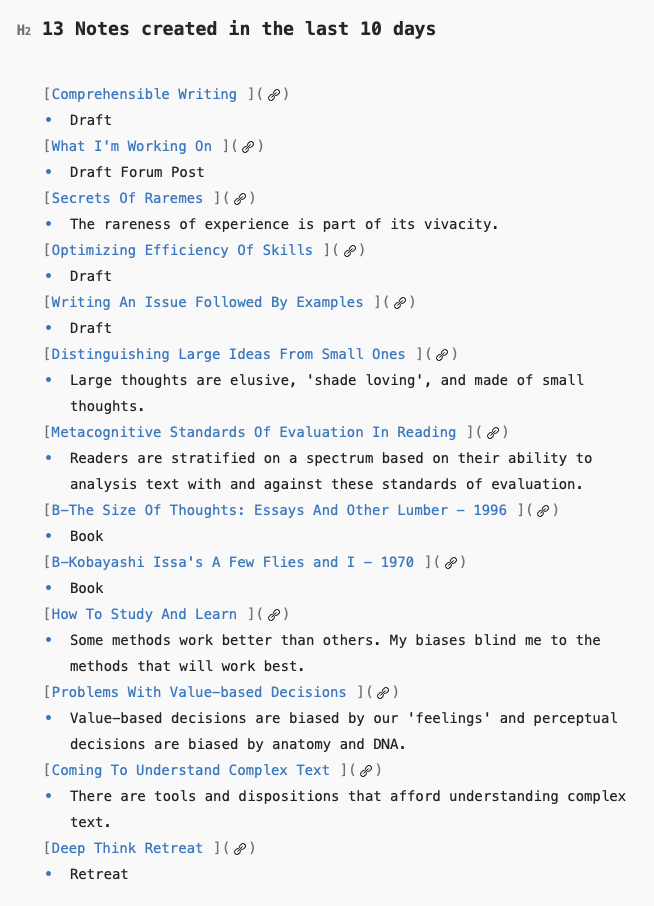 Will Simpson
My peak cognition is behind me. One day I will read my last book, write my last note, eat my last meal, and kiss my sweetie for the last time.
kestrelcreek.com
Howdy, Stranger!
It looks like you're new here. If you want to get involved, click one of these buttons!
Quick Links
Categories