---
What is going on in a Zettelkasten visually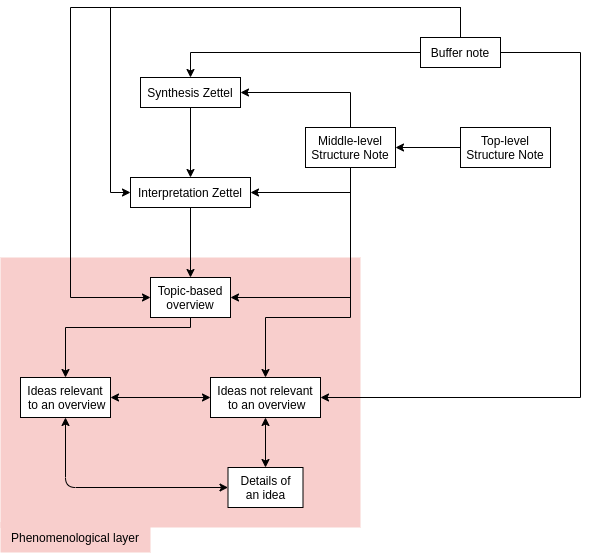 A Zettelkasten may look something like the image above, where the arrows represent the direction of the links and the boxes a particular kind of Zettel..
Links aren't always bidirectional. E.g.: Let's say I have an overview Zettel on Maria Popova's note-taking method. From this Zettel, I may link to a Zettel explaining how she uses sticky tab notes. But, the latter Zettel might not link to the former.
Another thing to note is that the item in the bottom of the image may link to further details. This might happen when you break down a Zettel that violates the Principle of Atomicity. E.g.:
Topic-based overview: "Maria Popova's note-taking system."
Idea relevant to the overview: "Idea index definition."
A detail of the idea: "Reading is about identifying patterns."
A detail of the detail: "Pattern definition."
I based my diagram on what's been discussed in the Zettelkasten blog, so others' Zettelkasten might look different.
Questions for the reader:
What would you change of my diagram?
How does your Zettelkasten look like?
Howdy, Stranger!
It looks like you're new here. If you want to get involved, click one of these buttons!
Quick Links
Categories
In this Discussion