---
Zettel ID and General Unique Identifiers
The notion of Zettel ID as a Unique Identifier can also be expanded to a more broad system that encompasses more than your Zettel notes. In my personal system, any object can have a GUID (General Unique Identifier) - Zettels, books, paper documents, even To-Dos or (digital/analog) calendar events - your imagination is the limit.
This GUID works across all application and media boundaries to reference one object to another, just like Zettel IDs. In principle, you could use time-unique stamps, but those are clunky to use in any context where you can't copy-paste (such as in paper notebooks or when there's a physical separation of devices). As such, I personally construct the GUID much differently from a typical note ID (see further down)
Let me show you an example: My notes on Stephen Covey's book "the 7 habits of highly effective people" ( I use evernote for all my needs; sorry for it being in German):

It contains a link to my to-do manager (denoted by the "T" at the GUID start. Let's look for that:
![]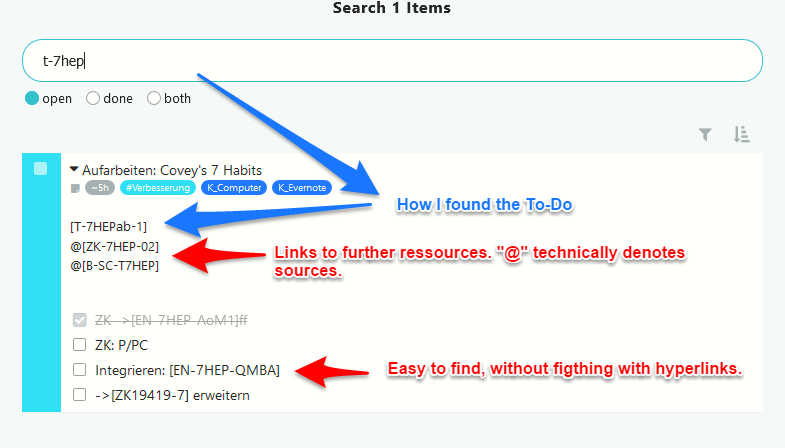 Which again includes GUIDs that have been copy-pasted.
Because they're so short, the GUID also works with hand-written notes. You can also include things like page numbers: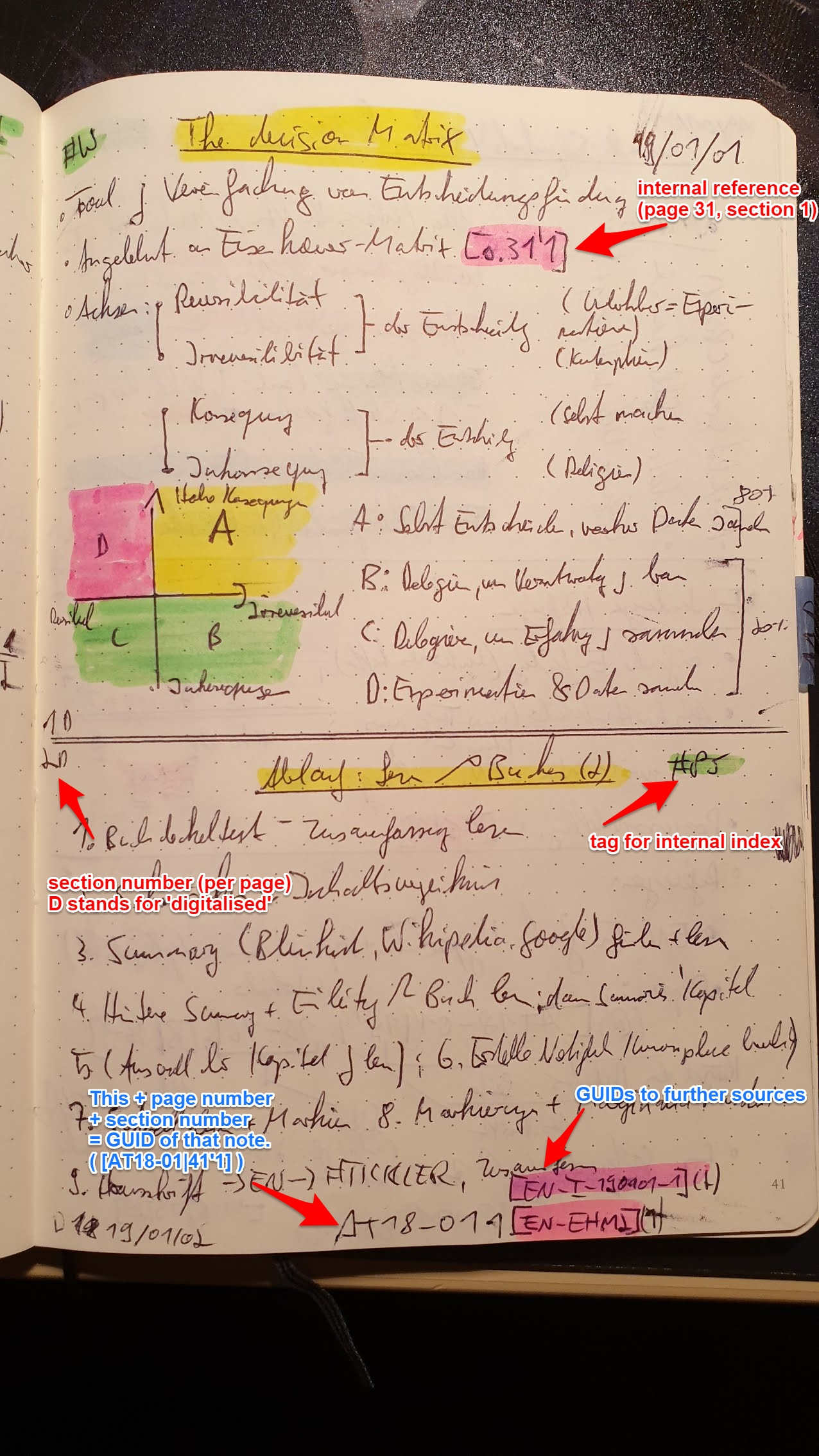 A few notes on the GUIDs:
First of all, the system in place is something that works for me - they originally came into being in high school as a way to link various sources and homework, etc. I would write for example write HA-M-150106-1|12-16,18b (Hausaufgabenblatt (exercise sheet), mathematics, 15. January 2006, sheet number one, problems 12 to 16 and 18b) so that I knew what I needed to do for homework and don't confuse sheet problems 12 to 16 with sheet 3 problems 12 to 16 that we got that week. From the beginning, this system included a key of what topic the referenced object was about and what the object actually was (homework sheet, book page, a digital file, etc.). This way of doing things stuck with me.
Secondly: The main difference of ZIDs and my GUID system is that the GUID system includes information about the type of object referenced (or, where to find it - [EN] for Evernote [T] for Task manager, [K] for calendar (Kalender), etc.) and a way of including the contents of the object (topic, page number, etc).
I soon expanded the system to find my way in longer documents. You can see it in the 3th example image, on the bottom and top: Use [GUID|#'$] to mark page numbers (#) and smaller units ($, for example sections, or numbered annotations). To jump inside a document, I use just [Page number] or [Page number|annotation number]. Works with e-books, as well. Something similar for references in Zettelkasten, with [A], [B], etc. linking sources with individual sentences:


You can of course use increasing numbers or a date-number of item format for your Zettelkasten: [ZK-190525-3] would be the 3th Zettel Note today; or somthing like [ZK-M-0007a3a] - Zettel about Mathematics, overarching #0007 (set theory), a3a (Cantor's theorem) - you see you can easily construct either hierarchy, Folgezettel or both with it.
I won't claim that this system is the best one for standalone Zettelkastening (?) - it was, after all, there before the Zettelkasten and as such, the ZK had to fit the existing system. However, it has a few advantages against using time stamps as IDs, such as universality, supporting hierarchy/Folgezettel (if you use that) and the fact that you can see what the object you're touching is about. I just wanted to put it out here to hear your thoughts and maybe serve as an inspiration.
Howdy, Stranger!
It looks like you're new here. If you want to get involved, click one of these buttons!
Quick Links
Categories
In this Discussion