---
Engagement via a creative user profile
This is a topic that deserves its own thread. I'll launch the first salvo.
Not sure that even a sparkling user profile like mine

is good enough to bolt us into participating or be a tornado hurling others to interact with us. But I could be wrong.
I need to set specific boundaries to my exploration and that was the smallest unit of value I could think of.
Concentrating on the user profile is a small gesture but who knows where it could lead? I'm willing to follow along and help where I can.
I started to talk about that idea to friends and, surprisingly, they found it useful.
So, following a Design Thinking approach, I want to refine the idea and testing with real people to come up with something I can package and share.
I have a mildly snarky question, are you talking to us "about the idea as friends" or are we the "real people" you want to experiment on?
This is a superb idea, and I'll participate. I think this forum would benefit from anything that would enhance engagement.
To start this off, here is a screenshot of my profile.
1. How can it be improved?
2. What else should be shared that others what to know?
3. I just discovered this "Activity" form and wonder what it does.
4. My profile is hidden in the forum, and a user must look for it. Is that less than ideal?
5. Few users take the time to set up a photo avatar. The best practice would be to have one premade and used everywhere.
6. My signature that gets connected to each post isn't shown and I must edit my profile even to see it.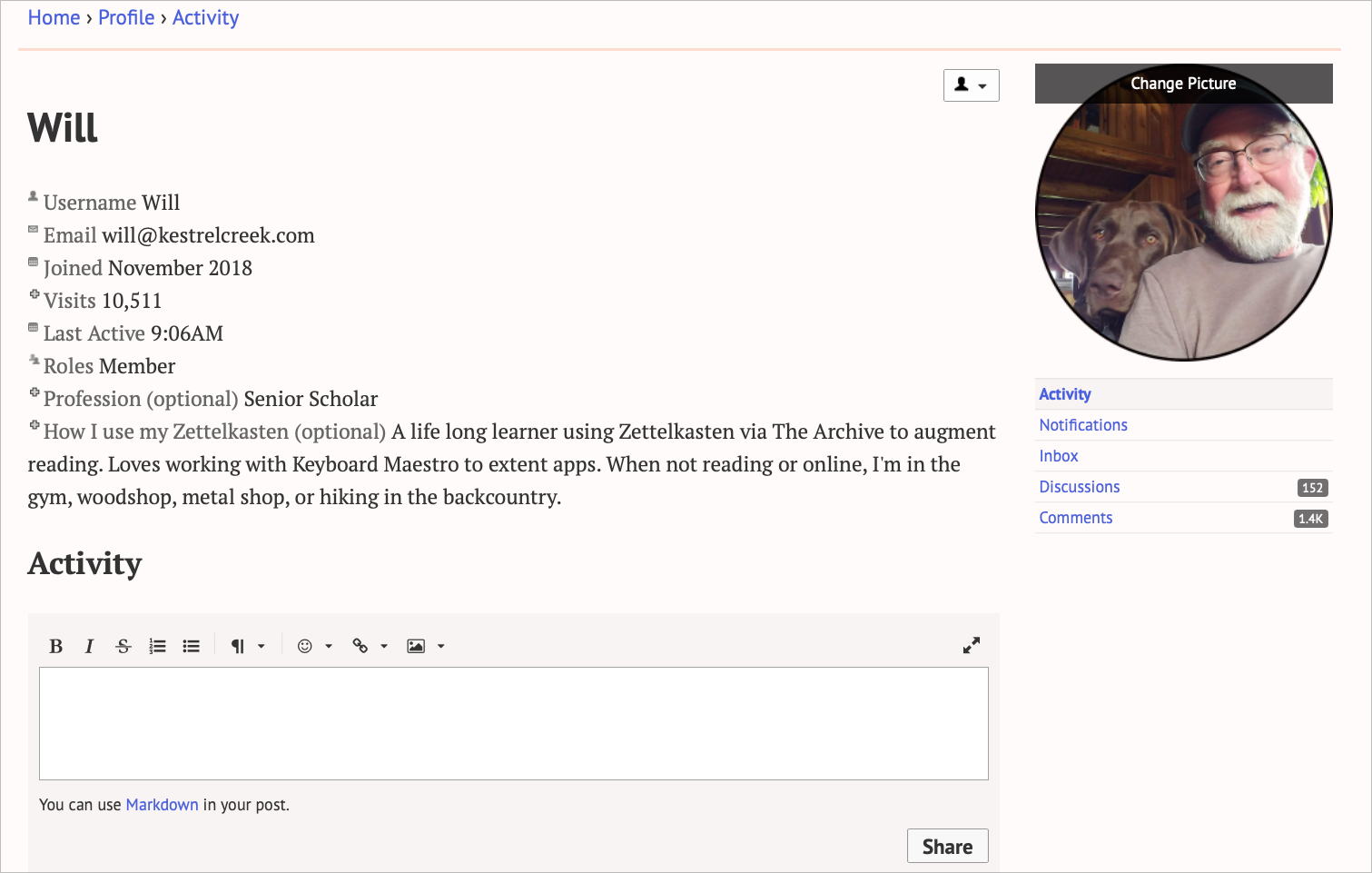 Will Simpson
My peak cognition is behind me. One day I will read my last book, write my last note, eat my last meal, and kiss my sweetie for the last time.
kestrelcreek.com
Howdy, Stranger!
It looks like you're new here. If you want to get involved, click one of these buttons!
Quick Links
Categories
In this Discussion