---
Markdown compatible table of annual zettelkasting stats
For those of us who have an interest in a quantified life, I'd like to share a quick tool for producing a table with yearly stats on your, "The Archive" hosted zettelkasten.
Here is the GIT repo.
https://github.com/woodenzen/annual_stats.git
Requires python to be installed and a wee bit of comfort in the terminal.
Below is a preview of the output using my ZK as an example.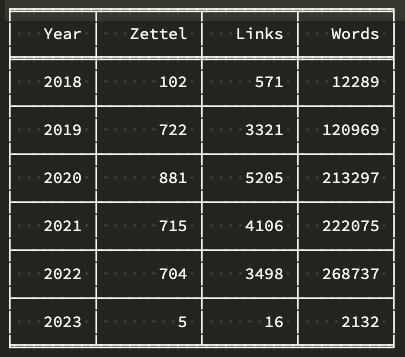 Will Simpson
The quality of our thinking is directly proportional to the quality of our reading. To think better, we must read better. - Rohan
kestrelcreek.com
Howdy, Stranger!
It looks like you're new here. If you want to get involved, click one of these buttons!
Quick Links
Categories
In this Discussion