---
How should my first notes be laid out?
Greetings, sorry for this long post, but I feel I need to provide full context to better explain myself.
After several weeks of deliberation (and lots of reading on the Internet), I finally decided to start my very own Zettelkasten. However, right from the beginning, I'm having trouble deciding how I should lay out my notes in better accordance to the ZK method. I was hoping somebody in this forum would be kind enough to provide some guidance.
So here's the complete scenario: I'm using Obsidian as my ZK platform and I decided to start by transferring some of my old notes into zettels. These particular notes are just a summary of a single chapter of an introductory book about cell biology. I guess one could say that these are literature notes or bibliographic notes, since they do not contain any original idea of my own.
Regardless, from these notes I identified the following key topics (provided merely for context; these would not be the actual titles for the zettels):
What's a protein
What are aminoacids
How aminoacids connect together to form a peptide chain
How a peptide chain folds into a protein as a consequence of certain inter-residue physical interactions
The two basic structures into which the peptide chain folds (helixes and sheets)
How the structure of a protein is studied from several levels of detail
etc.
As I'm trying to come up with a way to divide these notes into zettels, I realized that there are several different ways to do this and I can't decide which is the most appropriate for the ZK method.
For instance, I could simply create a structure note titled "Proteins" and list all the topics as "child zettels". This would look something like this:
# Proteins
Proteins are biological molecules that blablabla...
- The formation of a protein
  - [[Aminoacids]]
  - [[Peptide chains]]
  - [[Protein folding]]
- The organization of the structure of a protein
  - [[Helixes and sheets]]
  - [[Levels of organization]]
- The categorization of proteins
  - [[Protein domains]]
  - [[Protein families]]

- ...

The graph view of this layout would look like a single node that has several children nodes simultaneously connected to it.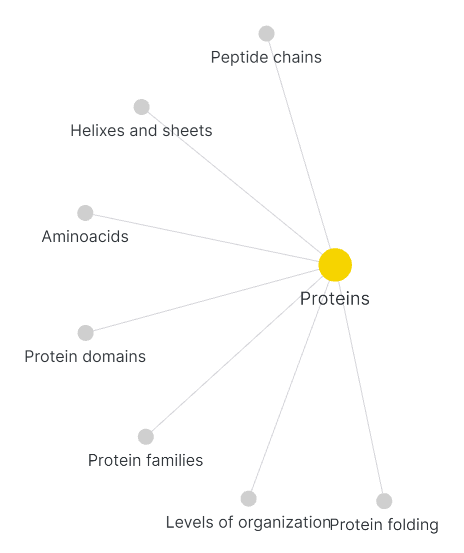 A different way to implement this would be to further divide the top-level topics into additional structure notes, each containing links to the zettels that contain the corresponding low-level topics. In this case the graph would look very similar --as a tree of two levels.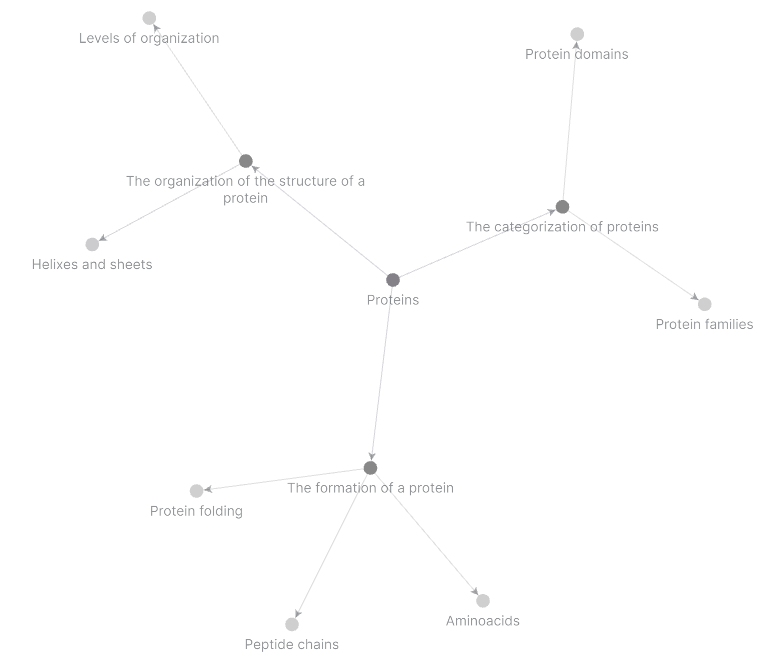 The problem I see with this layout is that it's really imposing a hierarchy according to the topics covered. This is unsurprising since, as I mentioned, the original notes are a summary of a book, so the topics would appear in the same order as in the original book. However, it is my understanding that such hierarchies should be avoided in the ZK method. It is also my understanding that the ZK should be more about constructing arguments or discourses (or "trains of thought", as some people call them). This is the fundamental idea behind the Folgezettel; each sequence of notes represents the premises of an argument, but with the addition that any certain premise can branch-off into a new argument. In a graph view, the ZK with FZ would look more like a tree (if we're not accounting for links between zettels of different discourses) and a single discourse would look like a linear path.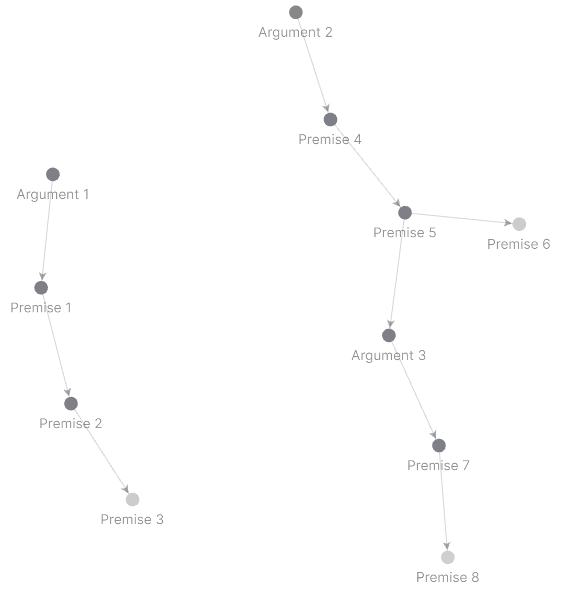 If my understanding is correct, then the above structure note does not properly reflect what the discourse is, neither does its corresponding graph view. So I thought of an alternative way to layout my notes by rewriting the structure note more in the style of an "introduction note" that would look something like this (links do not represent the actual titles of the linked zettels, I'm just too lazy to write made-up UIDs):
# Proteins
Proteins are biological molecules that blablabla...
Proteins are made of [[aminoacids]] which can be linked together to form [[peptide chains]]. 
Through a chemical process called [[folding]], these chains form proteins. 
[[Helixes and sheets]] are the two basic structures that can be formed within a protein as a result of the folding process.
Thus, the structure of a protein can be studied using different [[levels of organization]]. 
Proteins can also be categorized into [[domains]], depending on their structure and function, or into [[families]], depending on their evolutional history.
...

I much prefer this way since the following things can be inferred from the content: what is the general discourse that begins from this zettel, how this zettel relates to others, which zettels are contained by this structure note, and what is the order in which the linked zettels should be read.
However, there is still one problem left: navigation. The graph view of this layout would be identical (in structure) to that of the first image shown --a single node connected to several child nodes. But, at the same time, the content of the zettel suggests that the notes should be read following a linear path. So, in this sense, the graph view does not reflect the order in which the ideas are actually connected.
Also, if I were to read these zettels following the intended order, I would have to go back to this "introduction card" every time I want to move on to the next zettel in the sequence. At first glance, this problem can be remediated by adding, at each zettel, a link to the next one. However, if this is done, I'm not sure what the introduction note would look like or if it's even needed anymore. Also, another problem can potentially raise in the future, where a certain zettel, which is already part of a discourse, branches-off to a different discourse. A similar problem occurs when two different discourses make use of the same zettel as a premise (but the discourses do not join together). In both problems, the following question would arise: how could a zettel be linked to the next one if it is participating in multiple discourses?
So, the bottom-line is this: given the examples I've shown and the problems that (I think) arise for each of them, is any of them the correct way to layout my notes or are they both wrong? What is it about the ZK method that I'm not understanding correctly? Is it the case that I find it difficult to create my ZK because my first notes cannot or should not actually be transformed into zettels (since they're just a summary of a book)?
Howdy, Stranger!
It looks like you're new here. If you want to get involved, click one of these buttons!
Quick Links
Categories