---
Exposing the zettelkasten to the quantitative eye
As an interesting and fun learning project, I've written my first python script. And I love to share it with you. I've exposed The Archive to explorations of the quantitative eye. You can look into mine and look into your own archive.
If you are a coder, I know you have many other things on your busy schedules, but I'm asking if you'd take a couple of minutes to look at my coding attempt and offer whatever help you want. Even just pointing me where or what to look for would be a great help.
Dependencies
python 3
pip3 install pandas
pip3 install ploty
The phyton script calls a shell script. I want to combine the shell script into the python script but learning about converting actions is slow. Install these together in a test directory and set the "user variables" in both scripts to what is appropriate for your system. Then all that needs to run from the cmd line is python3 graph1.py. This will NOT modify your archive in any way.
It plots graphs for your zettelkasten's word count, link count, and the number of zettel. It doesn't require Keyboard Maestro, Alfred, Hazel, or crontab/launchd. It does this all in one go. I think the value is you wouldn't look at these stats on a regular schedule. This script should run faster than it currently does. Do you have any tips for running this faster?
Please don't laugh too loudly at the code. At least not so loud as I can hear. I'm sensitive. I'm a beginner. But helpful, constructive criticism is welcome.
Description
There are two scripts.
statshistory.sh
a shell script that collects the data from the zettelkasten
needs to be set executable with chmod +x statshistory.sh
it has problems in that it increments past the end of each month, 30 to 99, and depending on the size of your zettelkasten, multiple years of months this takes a lot of time where no data is collected
the time values running this script on 2278 zettel is
time sh statshistory.sh
real    9m12.950s
user    3m34.750s
sys     6m6.445s

a smaller subset of one's archive could be graphed to focus time
graph1.py
my first python script that produces simple graphs (see below)
requires pip install plotly and pip install panda
I'd like to find a way to prompt the user for variables (the zettelkasten location, beginning UUID, and ending UUID)
calls the shell script
reads temp.csv
each line represents a day
ploty is a very cool plugin and available in many environments
Assets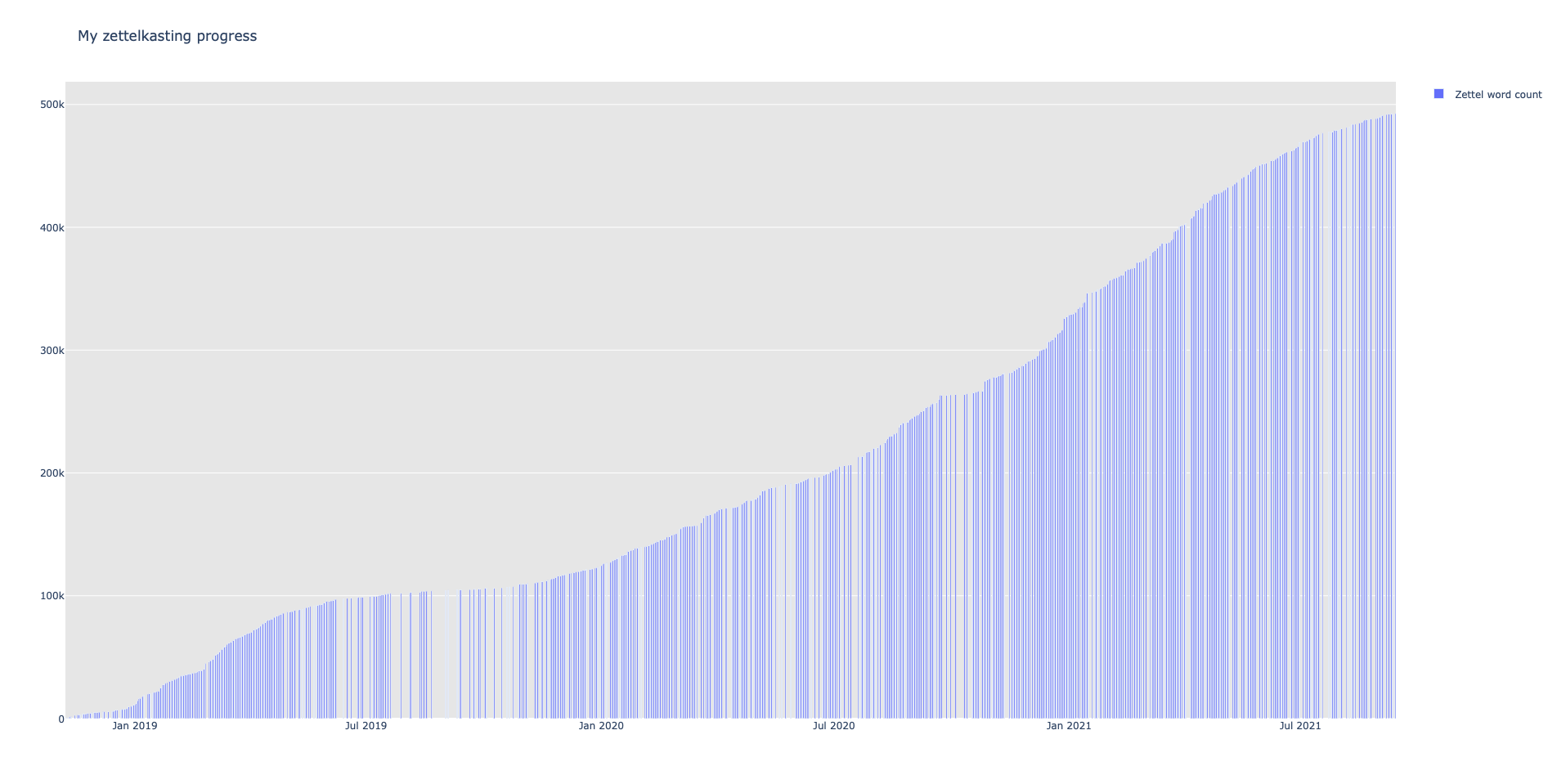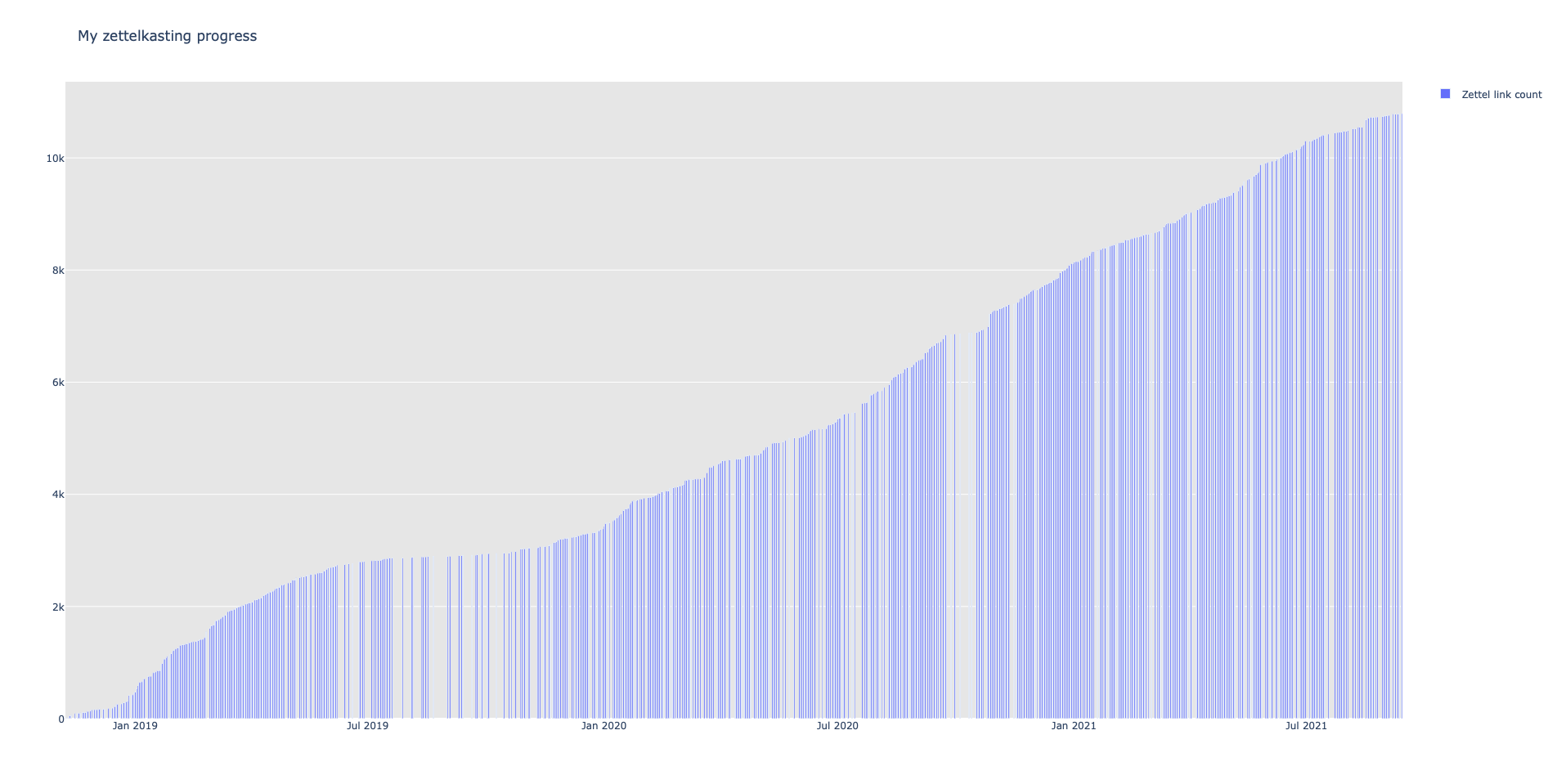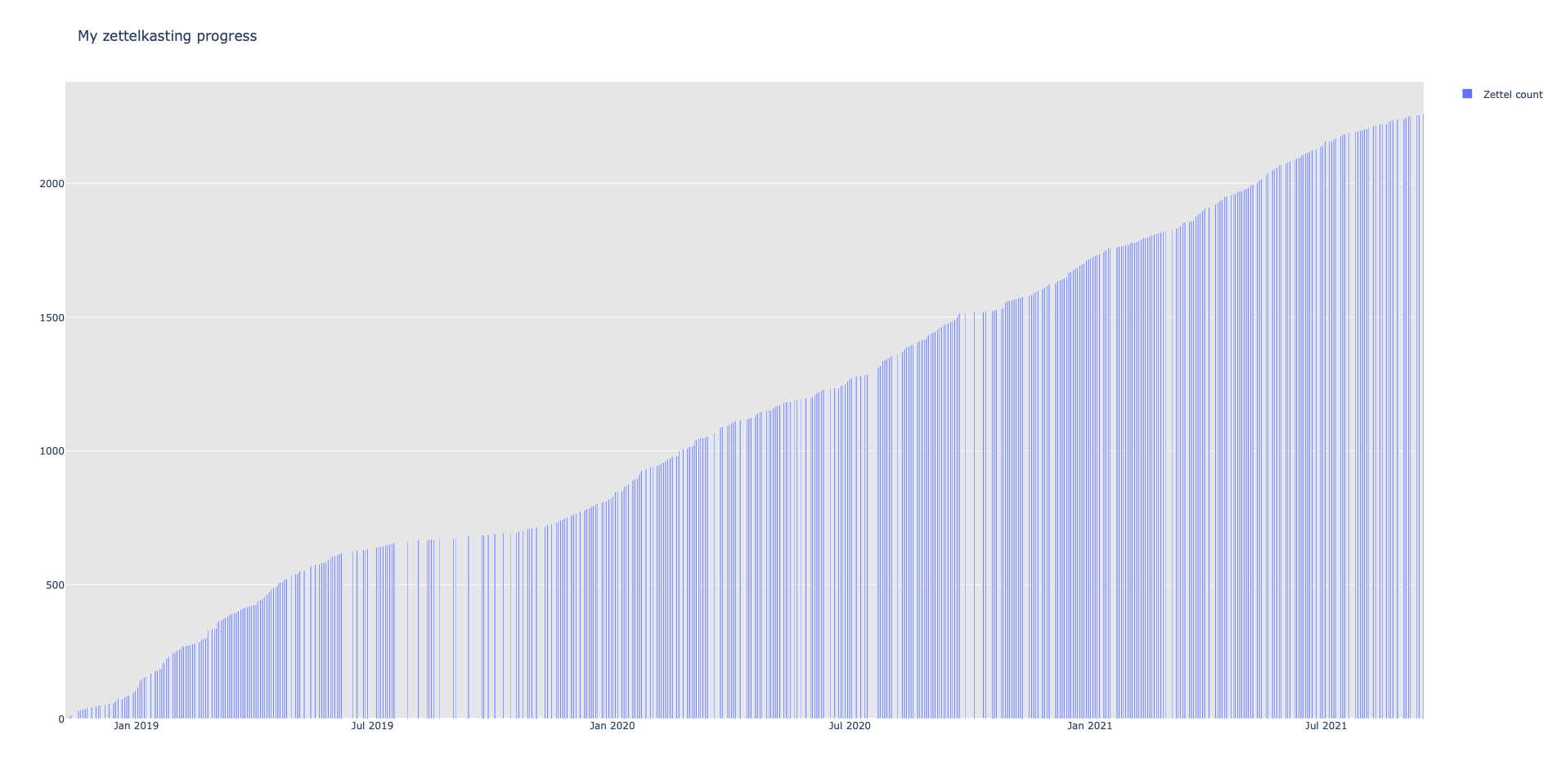 Will Simpson
I'm a futzing, second-guessing, backtracking, compulsive oversharing, ZK-maniac, in other words, your typical zettelnant.
Research areas: Attention Horizon, Productive Procrastination, Dzogchen, Non-fiction Creative Writing, Cognitive Workload, Python, Data Science
kestrelcreek.com
Howdy, Stranger!
It looks like you're new here. If you want to get involved, click one of these buttons!
Quick Links
Categories
In this Discussion