---
What happens at the intersection of an idea?
Answer: Ikigai
I've been trying to structure my procrastination. I call it positive directional procrastination. These are some of the results.
@thomasteepe has got me thinking about tools for idea creation. Even though this one is specifically a digital one, I still want to credit Thomas. Maybe he'd rather I not mention him, but oh well. Also, @bradfordfournier's idea of a label for zettel that lives on the edge of more than one graph is intriguing. You have to find them before you can label them. This is hard to do when you have 2237 zettel.
At a point in the thread Multi-edges / Named Links / Sub-graph: a means of capturing fluid associations I got excited about the idea of discovering what connections intersect at the edges of thought maps.
I twirled off on a tangent, exploring zsh and shell scripting. I have come up with something rough, as pictured below.
My thought process is that structure notes are the hubs of idea matrix. Individual zettel from one thought map that appear on two or more structure notes represents an idea collision. I created a script that finds these collisions. In v0.2, I used book and article notes, basically structured notes built on a book or article. In v0.3, I eliminated them and got a smaller, more focused list. I'm not sure which will have more pixie dust.
Do you have any ideas? Do you think this is lame, shit, or misguided? I've gotten stuck, fixated on for loops and while loops, and trying to use awk for formating. I what to push this out into public and work with the garage door up.
This is close but still not there. Every idea map is made up of zettel. Each zettel can be linked to a different idea map. That represents a collision score of 1. If a zettel links to two or more idea maps, then it gets interesting. That represents a collision score >2. The larger the idea map, the greater the likelihood of finding zettel with a high collision score. A higher collision score means a zettel with more magical pixie dust, more relevant, more mature, more useful.
Ideas for v0.4
Use #article #book #garden #structure-note only remove these zettel from the output, leaving only atomic notes.
(in v0.2, there are two atomic zettel, in v0.3, there are five atomic zettel)

Focus exclusively on the atomic zettel collisions leaving out the structure note to structure note collisions.

Assign a score based on the number of collisions and size of the idea map.
Figure out a way to add the target note names and separate links for target note and idea map.
look for idea maps that are not part of structure notes to be included in the tally.
Many of the collisions are structure note to structure note. The jury is still out on whether or not this would contain any pixie dust.
v0.2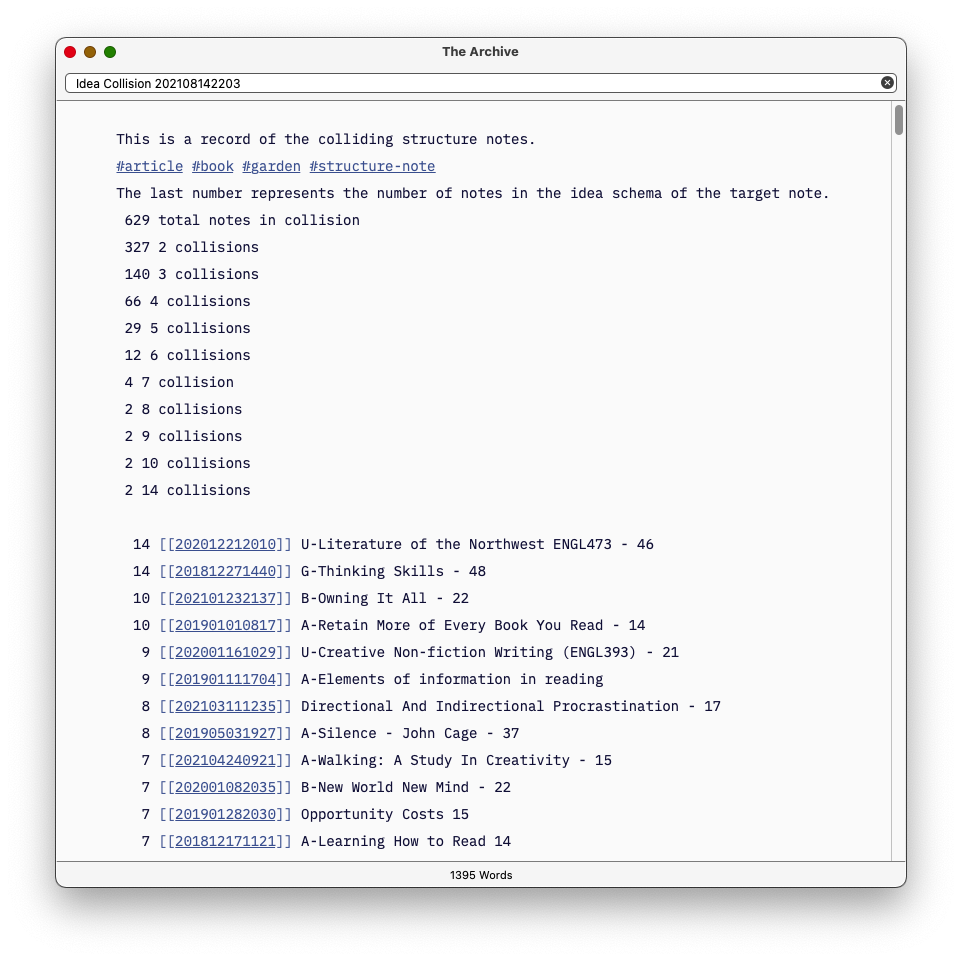 v0.3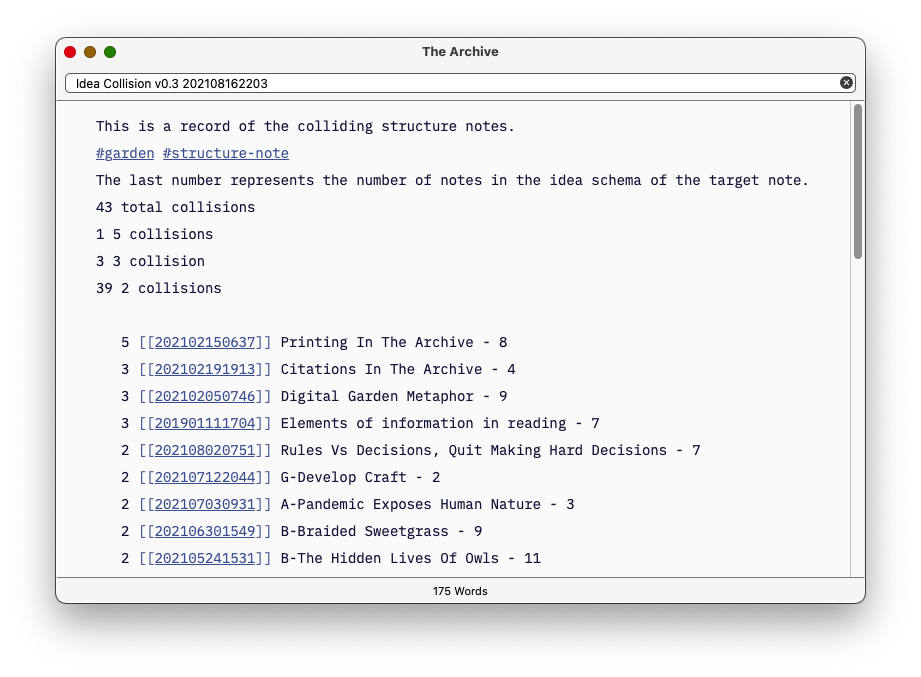 Will Simpson
"Read Poetry, Listen to Good Music, and Get Exercise"
kestrelcreek.com
Howdy, Stranger!
It looks like you're new here. If you want to get involved, click one of these buttons!
Quick Links
Categories