---
Sharing a zettel: Ideas from TRIZ principles
I find @Will's idea of sharing zettels great - so here comes my latest example, with a number of remarks.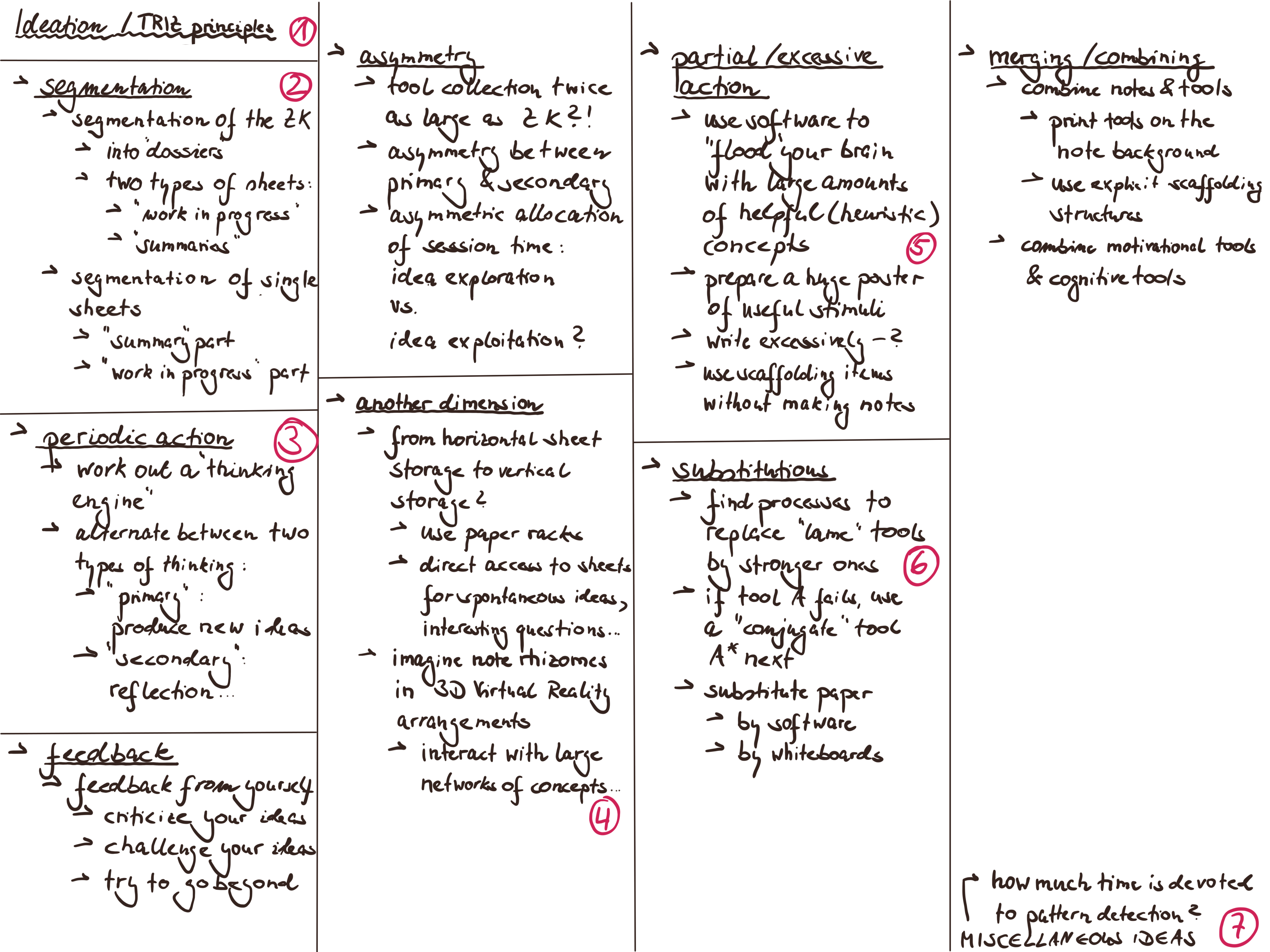 Remarks:
The 2013 Zettelkasten Exhibition in the Literaturmuseum der Moderne in Marbach/Germany was titled "Zettelkästen. Maschinen der Phantasie" (perhaps roughly "Zettelkästen. Machines of Imagination"). I'm fascinated by the question how a zettelkasten can support creative processes. My zettel shows one of the approaches I am experimenting with.
The basic idea is the following: I collect ideas triggered by the question "How can inventive principles from the TRIZ method be used to make zettelkasten work more interesting, successful or effective?" Background: TRIZ is the "theory of inventive problem solving", and one of its key components is a list of 40 (or so) inventive principles that played a central role in a large number of inventions - indeed, the list was derived from the analysis of thousands of patents. These principles seem like good starting points to generate ideas. Using these principles merely as stimuli is arguably a bit unsophisticated in comparison with the full apparatus of TRIZ, but it works for me in this reduced version. As I've described elsewhere, I have a set of sticky notes at my work place, and the list of TRIZ principles is one of these notes.
The main function of the zettel is to help with the creation of promising ideas. The ideas on virtual reality environments in (4), the idea of "concept flooding" in (5) and the ideas on "conjugate tools" in (6) are perhaps the most interesting ones. My focus with this zettel is the illustration of the process of idea generation, not how this zettel is embedded in the network of zettels in a zettelkasten. It seems natural to spend time with generating ideas in this or a similar fashion, then collect the most interesting ones and then spend time with a careful examination of these ideas.

I like the following "combinatorial" term for a class of "integrated thought development environments":
zettelkasten x layouts x tools
where we can combine different zettelkasten concepts with different sheet layouts and different tools. In this case, I found the "four column layout" or 4CL helpful - I have some note making flexibility in jumping between columns and using boxes of variable size. As an alternative, I could use a 3x3 array of small mind maps. Instead of the TRIZ principles, I could use different creativity tools or stimuli.

Transferring key ideas from paper to digital canvases should be easy.

Disclosure: For various reasons, tidy handwriting being one of them, I've compiled the zettel for this posting. I hope that some central features have become clear.
Howdy, Stranger!
It looks like you're new here. If you want to get involved, click one of these buttons!
Quick Links
Categories
In this Discussion