---
Flat Zettelkasten - misguided advice?
The conventional wisdom of Zettelkasten is that it should be non-hierarchical. I am starting to think that it's well-intentioned, but misguided. In particular, it conflates storage and presentation. That is, you can have hierarchical storage, and still allow for non-hierarchical presentation.
For example, you can have the following file structure: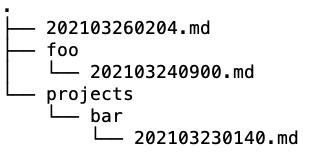 But still have the following view of it:
(okay you can't actually have that view of it since it's from The Archive, which doesn't read from subfolders... but it's theoretically possible

)
The command-line difference here is ls *.md vs find . -name "*.md".
So I'm wondering: is there any practical reason for insisting on flat file structure? I believe that non-hierarchical navigation is a useful option. But I don't think it should be imposed on the storage structure - and in fact there are very practical reasons to organize files hierarchically, while still navigating them non-hierarchically.
Howdy, Stranger!
It looks like you're new here. If you want to get involved, click one of these buttons!
Quick Links
Categories