---
Rich- yet plain-text notes using Marked and pandoc
Hi everyone,
for my Zettelkasten, I have some special requirements, namely:
I need to include images
I need to include references from a BibTex file
I need to include formulas
However, storing notes in plain-text is crucial to me, for all the reasons that can be found on the blog and in the forum. I believe I would perceive and inline-image preview in a Markdown editor rather as a hindrance than as a feature.
The first requirement can be easily fulfilled by using the Markdown preview app Marked 2. Setting Marked as the external editor for The Archive, a view of the note with images is only one Cmd+Shift+E away.
The second and third requirement can be fulfilled by setting the (awesome) document converter pandoc as the custom processor in Marked.
In Marked's advanced settings, I enabled the custom processor, setting the path to "/usr/local/bin/pandoc" and the args to "-f markdown -t html5 -s --filter pandoc-citeproc --bibliography /path/to/bibliography.bib".
With this system, BibTex references (e.g. @bibtexkey) will the processed and formulas can be written using LaTeX syntax. I noticed some problems with inline formulas as in "we observe that $x_n$ is". Here, sometimes the indices are not set correctly. "Displayed formulas" surrounded by "$$" as seen in the attached image, everything seems to work perfectly.
I am quite happy with this setup, maybe it is helpful for some of you as well.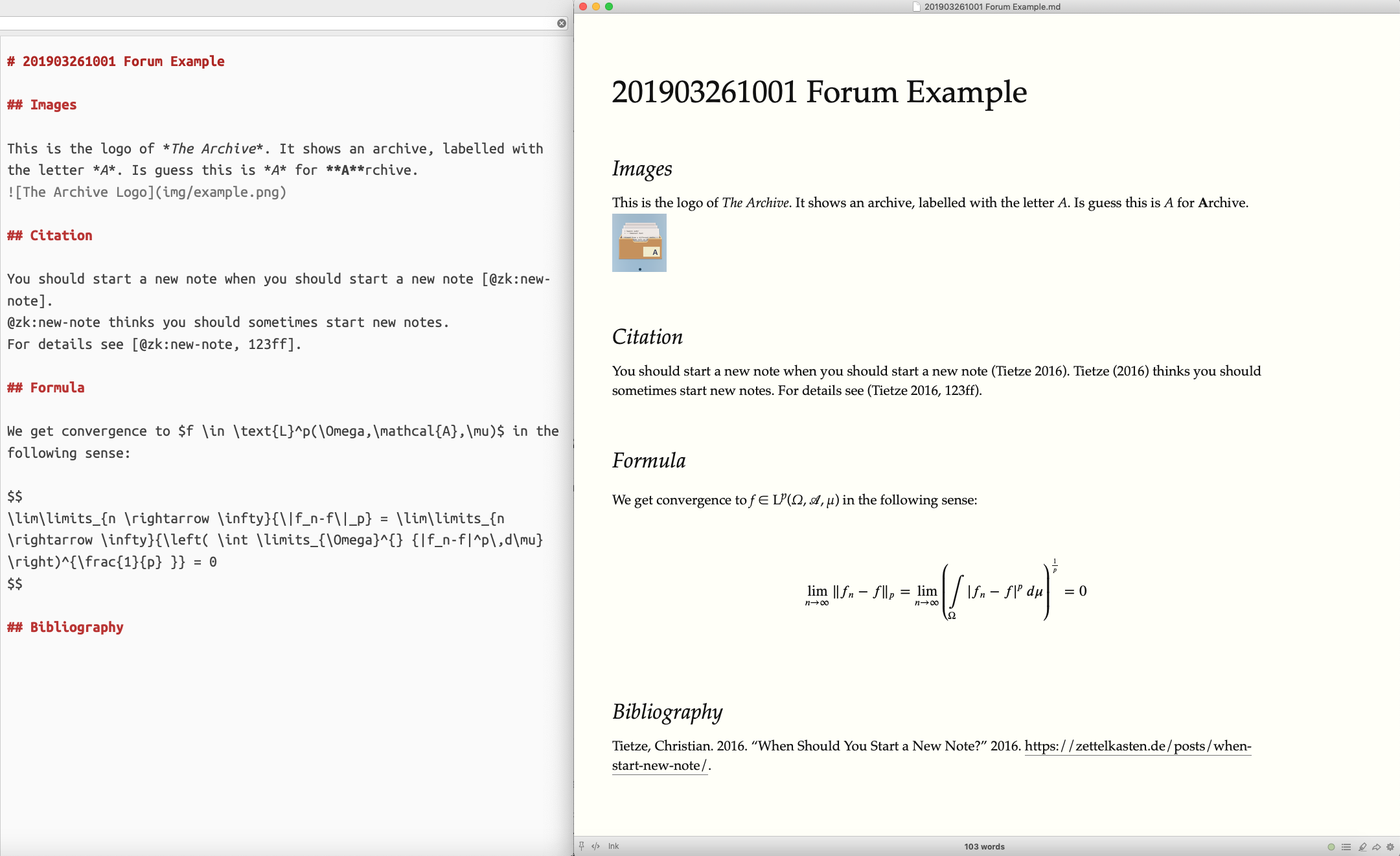 Howdy, Stranger!
It looks like you're new here. If you want to get involved, click one of these buttons!
Quick Links
Categories
In this Discussion