---
Zettel ID format
It looks like most people use a 12 digit ID number when naming their zettel files. Something like:
YYYYMMDDHHMM.
I have been using this format, but I find it hard to scroll through my files in the Finder. In the screen shot below, you can see that much of the title is chopped off for each zettel. Plus, such a long ID number seems to have a lot of redundancy in it.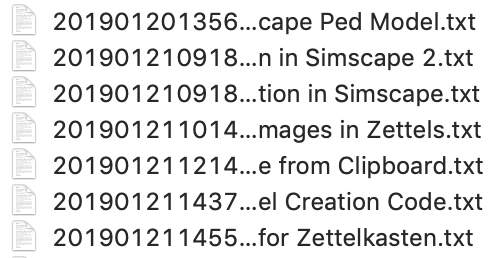 I have been experimenting with shorter ID numbers. I like this 6 digit format:
YYMNNN.
This combines a two digit year with a one digit month and a three digit increment. So for instance, my seventh zettel in May would have the ID 195007. For the months October, November and December, I would use O, N and D instead of a number. So the 204th zettel in November would be 19N204.
This system limits you to 999 zettels in a month, but that isn't a problem for me. Are there any other issues I should consider before implementing this? Has anyone experimented with other ID number formats?

Howdy, Stranger!
It looks like you're new here. If you want to get involved, click one of these buttons!
Quick Links
Categories