---
Atomicity & connecting notes
Hi all,
Quick question re: atomicity of notes and maintaining the flexibility and mutability that comes with sticking to one idea per note — while also making the most of the many possible connections a note could have.
How do you think about adding in links to other notes (each of which requires some elaboration/explanation for why they've been linked to/mentioned in the current note) without making the note now be "about" more than one thing?
Do you see the additional text explaining the inclusion of a linked note as 'not counting' towards the main concept of the note? Do you put the connections and links under a References header to separate in into different types of content?
The image below is an example of a note where I feel like I've managed to maintain the singular point of the note (what the concept of "in process" notes is in my system) fairly well but I can also see how paragraphs 2 and 3 could be seen as separate ideas to the main idea of the note. In that case, wouldn't it make sense to have that text appear as bullets under the Reference header?
I know there's no one way to use a zettelkasten but your thoughts on the way of thinking about atomicity when linking would be helpful.
Ta!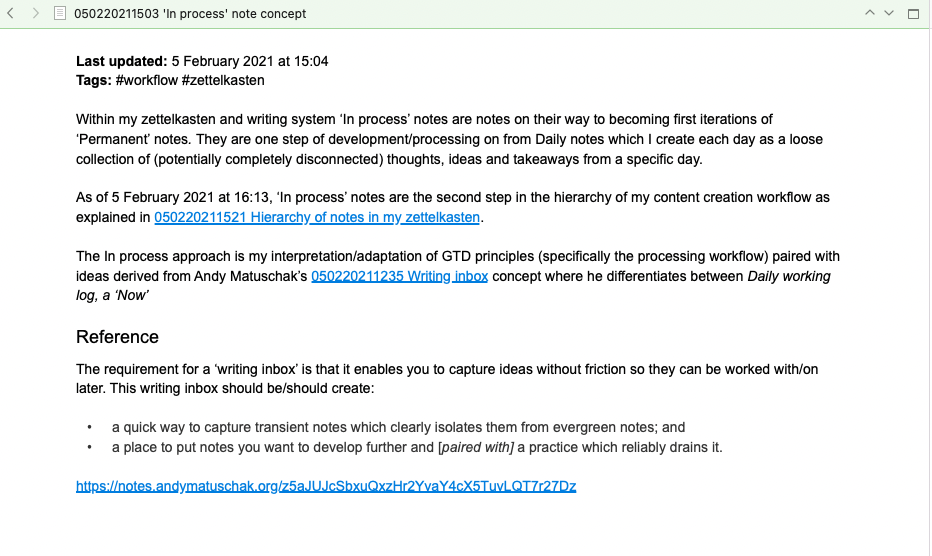 Howdy, Stranger!
It looks like you're new here. If you want to get involved, click one of these buttons!
Quick Links
Categories
In this Discussion