---
Trouble Setting Reminder to Review Zettel (using KM, AppleScript, Reminders)
This post may belong better on the KM or AppleScript forums, but I thought I'd ask here first mainly because I bet someone will have a far easier process than I'm trying to build.
After writing a Zettel in The Archive, I want to remind myself to review it in a day, and after that, remind myself for a few days later. A progressive review kind of thing.
I have a KM macro that:
Prompts me for the number of days, from a pre-made list.
Writes a tag (#ReviewXDays, where X is the number of days) to an inserted 2nd line on the Zettel
Copies the Zettel's h1 (from the 3rd character to the end of the line)
Creates an Apple reminder "Review such-and-such Zettel" with a due date of the number of days out
It all works except the calculated Reminders date at the very end. I think it must be either a variable type problem, or a syntax problem in the AppleScript. I have a temporary KM Action before the last step that displays the date I'm trying to use. If I simply copy that (correct-looking) result and paste it as a constant string in the final KM action, it works. It just won't accept the variable version of that date.
The error is some variation of "execution error: reminders got an error: can't get date (1/27/2022)", depending on the tweaks I've tried in the script syntax.
Has anyone
created some kind of progressive review automation for themselves that's better than this
worked with pushing a due date to Reminders via AppleScript
The image is of the last few actions, where the "make new reminder" line in the AppleScript is where I fail.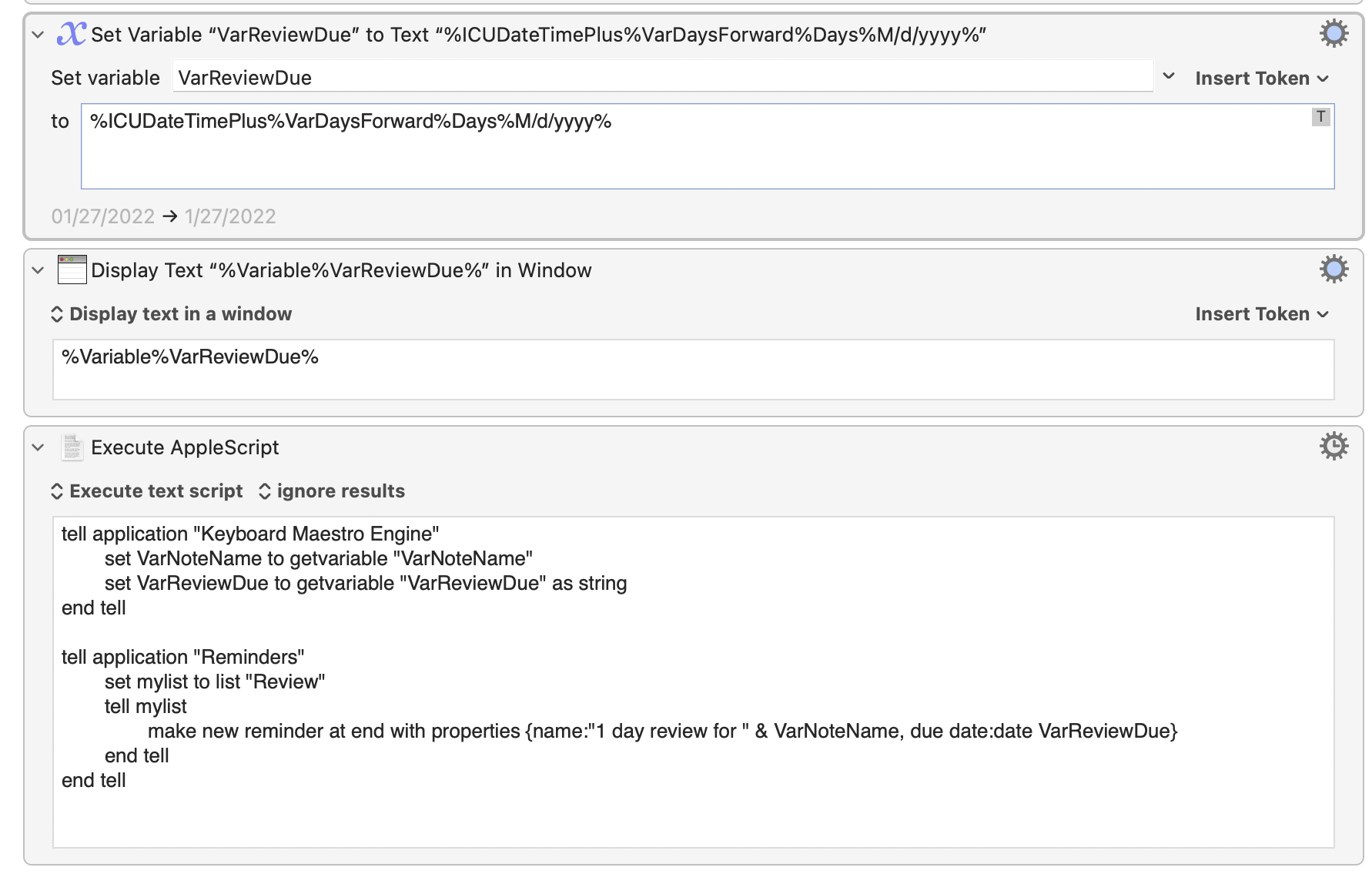 ...and here is my KM macro (1st time sharing, hope I do this right):
Thank you all.
Howdy, Stranger!
It looks like you're new here. If you want to get involved, click one of these buttons!
Quick Links
Categories