---
When do you use #tags, and when do you use [[wikis]]?
Hi there!
When I started to build my Zettelkasten I decided to use the [[wiki]] format for everything including "keywords" and links to other notes, because I'm not a big fan of compounded words written in the tag format (e.g., #tidydata, #contentanalysis), for me sometimes it's hard to read, and I just don't like so much the look of it.
Here is an example of how I'm trying to structure my notes.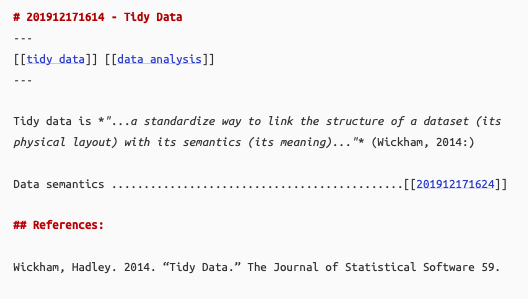 But I was wondering when do use #tags and when do you use [[wikis]] and if you see some problem on my approach?
Cheers.
Howdy, Stranger!
It looks like you're new here. If you want to get involved, click one of these buttons!
Quick Links
Categories
In this Discussion