---
Another content level: the abstract
Commonly a zettel gets a title and a body. Both are part of the content. And the title is on a more abstract level than the body.
In a list like this in TA only the title is shown: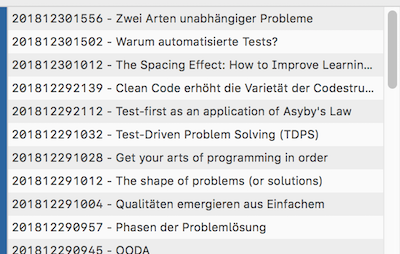 What I've found is, that for me it's helpful to insert another level of content between title and body. I call it an abstract.
The abstract is less catchy than the title, and much shorter than the body. That way I enrich my browsing experience with more depth:

I get two handles on a zettel instead of one to jog my memory and stir my imagination.
Or even three levels by including part of the content:

To display more than a simple title in an overview appeals to my visual memory plus my intellect. (Not even mentioning the tags as yet another information dimension.)
Working with zettels which actually look more like a note on a piece of paper makes the content more tangible to me and provides more levels of information:
Title
Abstract
Body
And by thinking about an abstract (usually after I wrote the body) I process the body once more for better mental linking, I'd say.
Howdy, Stranger!
It looks like you're new here. If you want to get involved, click one of these buttons!
Quick Links
Categories
In this Discussion