---
Titling naming convention trials
I've been asked to share my meager and evolving insight into using extended ASCII characters and various user codes, so-called "categorization conventions" in the titles of my zettels.
I'm no expert. I hope to remain Bayesian. Open to new ideas and corrections in my thinking. I like throwing many approaches at my Zettelkasten and keeping what sticks and discarding the chaff. My current naming scheme is becoming more helpful as the Zettelkasten grows.
I find that I am looking more and more at the "Note List" and it is growing for any given search. Knowing what type of notes are in the note list before opening them is helpful. As an example, in the following note list, I can see at a glance a couple of course structure notes (Materials Engineering and Writing), some class notes, and what I call literature structure notes mixed in with atomized zettels. Knowing this in advance tells me several things. First, it tells me if my search criteria have reached deeply into my zettelkasten or not. It can tell me at a glance if and where I might find references and deeper links. Sometimes I want to review notes from class and this lets me Identify them quickly, some times I want to avoid academic thinking and I can see where that is likely to be.
Sure this all can be done with tags but you'd have to open each note and view the tag before you know whether or not you were looking at a note on a book or a class or a hub note or a base Zettel.
The naming convention I use is evolving. I stole the inspiration for this from @sfast. My application is a bit different. I think he uses a similar naming convention to sort his note list. I use mine in the way described plus as a tool in creating "Saved Searches".
202006231614 U1 MSE101
202006230752 Ontology
202003250754 Luhmann's Numbering System
202006191522 Heroism Of Rodeo Clown
202006091108 Noticing The Particular
202001211808 H1 Abundance Of Essayists
202004202101 Use Cases For Zettelkasten
202006090936 Descriptive Repetition
201903011645 • The intelligent use of space
202006040859 L1 Gradual Construction Of Thoughts During Speech
202005242035 Books Don't Transfer Knowledge
202005240910 Well-trained mind brings happiness
202005191029 Marking Used During Reading
202005111721 Ode To Walking-sauntering
202005111628 L1 Fire Season
202005060844 Writerly Notes
202004231348 CN April 23, 2020
202005210851 U1 ENGL316

Here is a reference note I keep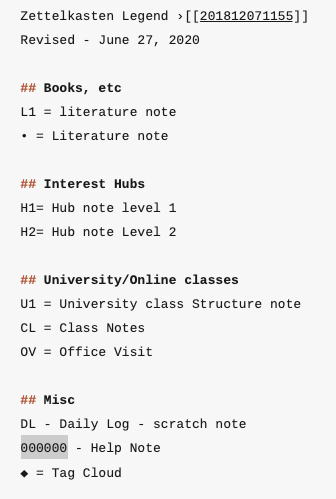 Howdy, Stranger!
It looks like you're new here. If you want to get involved, click one of these buttons!
Quick Links
Categories